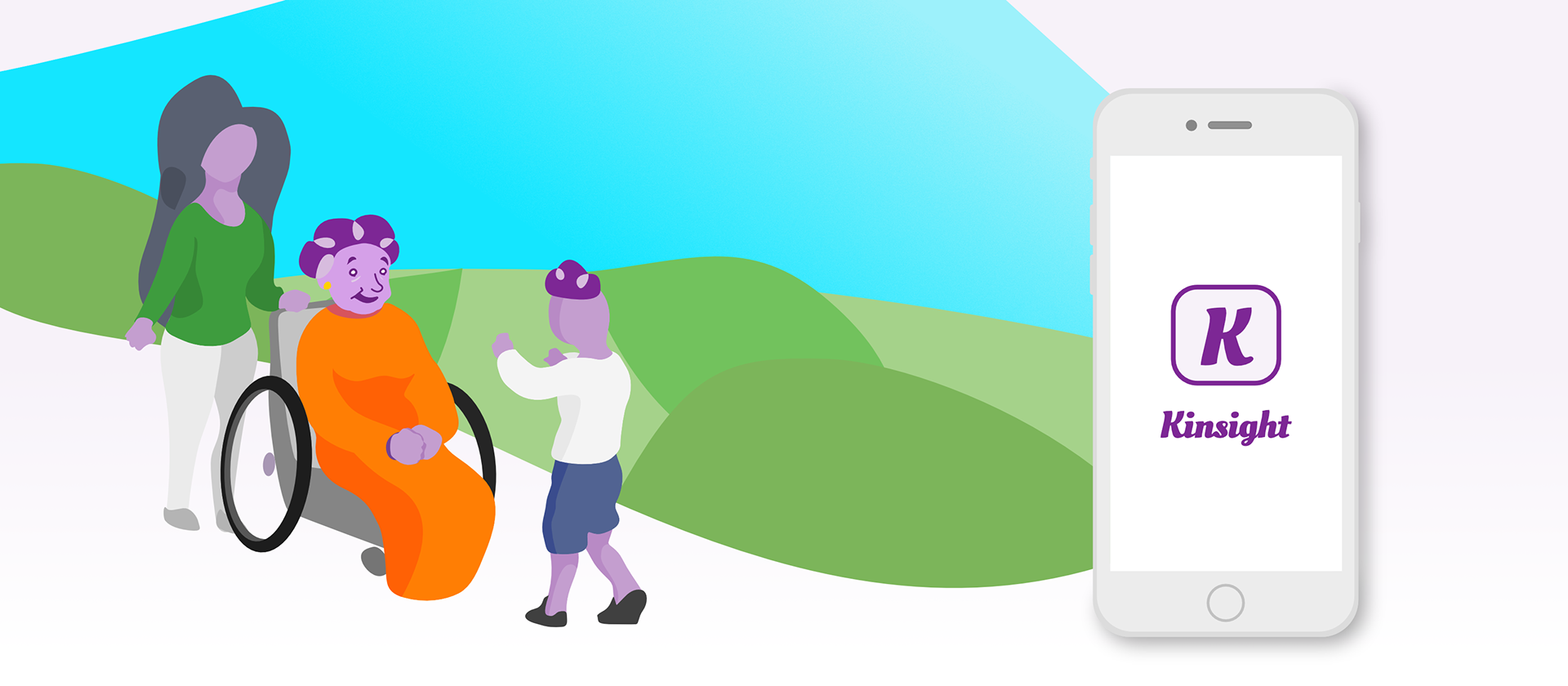 Improving our Relationships with our Elders
Originally I was tasked with a startup to build an app that complements their Internet of Things device to track people with cognitive impairments for their loved ones.  However through my research I found that a better direction can be had.  I built Kinsight, a product that can have the potential to truly improve relationships between people and their elderly family members.
Client
CSI is a Electronic Distribution, Repair and Logistics company, and through them I was in contact with WeTraq, a startup that developed and prototyped IoT tracker devices for people with cognitive impairments. Their technology was a huge innovation in the space since it uses multiple internet vectors – cellular radio (4G) GPS and wifi – to work together for better accuracy.  I previously made some promotional graphic work with them and as they knew I was also a web designer they came to me for an app design. CSI would help fund this project.
Some research and insights are kept confidential and so are not here.
Role
As an independent project as a freelancer, I took on the end-to-end process from developing the problem space to the UX and UI, just before handoff.  This was done within a 10 week period from the start of July to September 2019.
Challenge
People with intellectual disabilities can wonder out of their safe spaces without their caregivers' awareness.  Many go missing and can get into dangerous or even fatal situations.  This possibility can cause stress towards their loved ones and caretakers.
Terms
IoT
– Internet of things.  A system of typically small devices that work interconnected with one another over a network without human intervention.
PCI
– People with Cognitive Impairments.
PSW
– Personal Support Worker.  An Ontario government certified caregiver that cares for the sick within their clients home.  They do many of the lower-level tasks a nurse would do, and ask assistance from a nurse when more is needed.
This project seeks to lower the rate of disappearances of people with cognitive impairments (PCI).  This not only would save more lives but greatly reduce stress and anxiety of the people that care for them.
Objectives
Have an easy to understand app that can create a lifeline between Personal Support Workers, loved ones of the concerned person to communicate if a person has an urgent need.  Make it easy to find a missing person by incorporating an IoT device.
Constraints
The app works with an IoT device that needs to be place on the monitored person. This person may choose to remove it if it is causing an annoyance, especially likely for those who have autism.
Business needs may conflict with the ethical case for the app.  Advertising for example by contradict the need and lower engagement if it is perceived that data collected by vulnerable persons are to be used. Regulations may be stronger that can reduce profit more as this with the IoT device is considered a medical device.  This can make this system less affordable.
Privacy for tracking a vulnerable group requires much more trust.  People may perceive it as exploitative that the data collected may be used for profits.
Beyond general statistics on the problem, there isn't really anything that tries to do what I'm attempting, beyond tracker apps like Life360.  WeTraq essentially wanted a Life360 like experience with integration of their IoT device, but not requiring it. They haven't done much research going into this (essentially bad reviews they looked up on Life360's Google Play page), it was important that I find out if this was worth pursuing.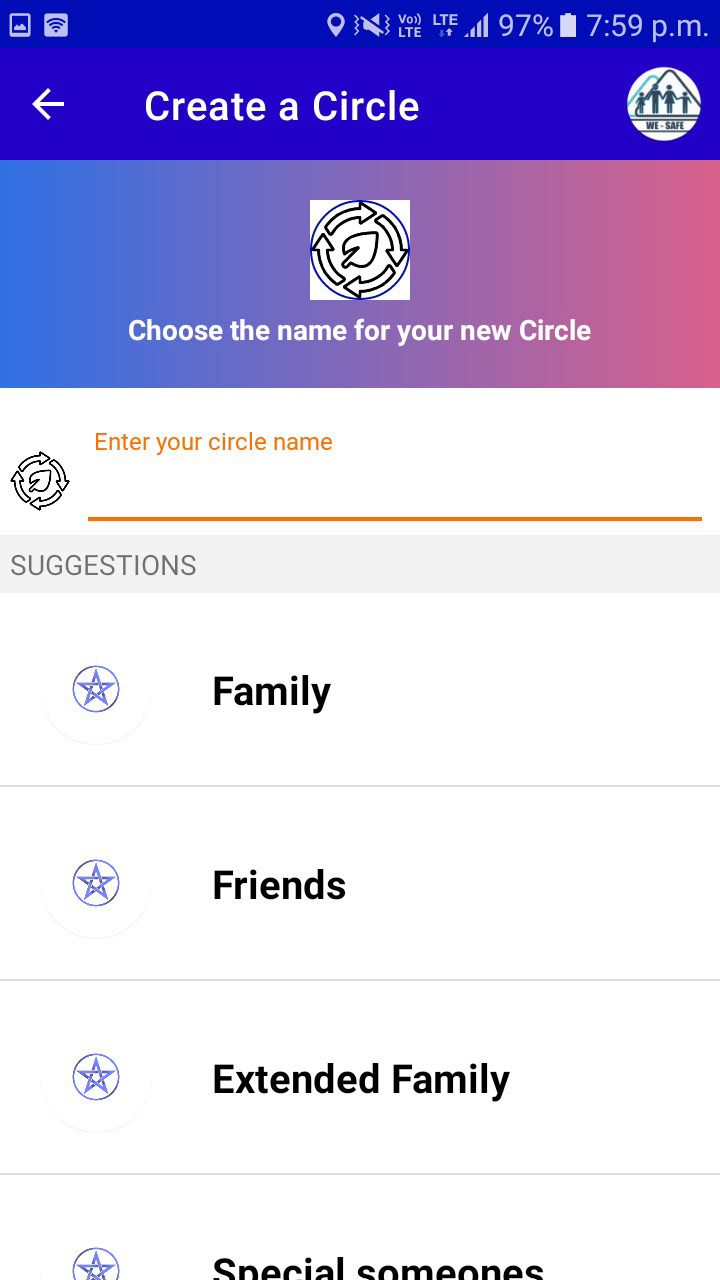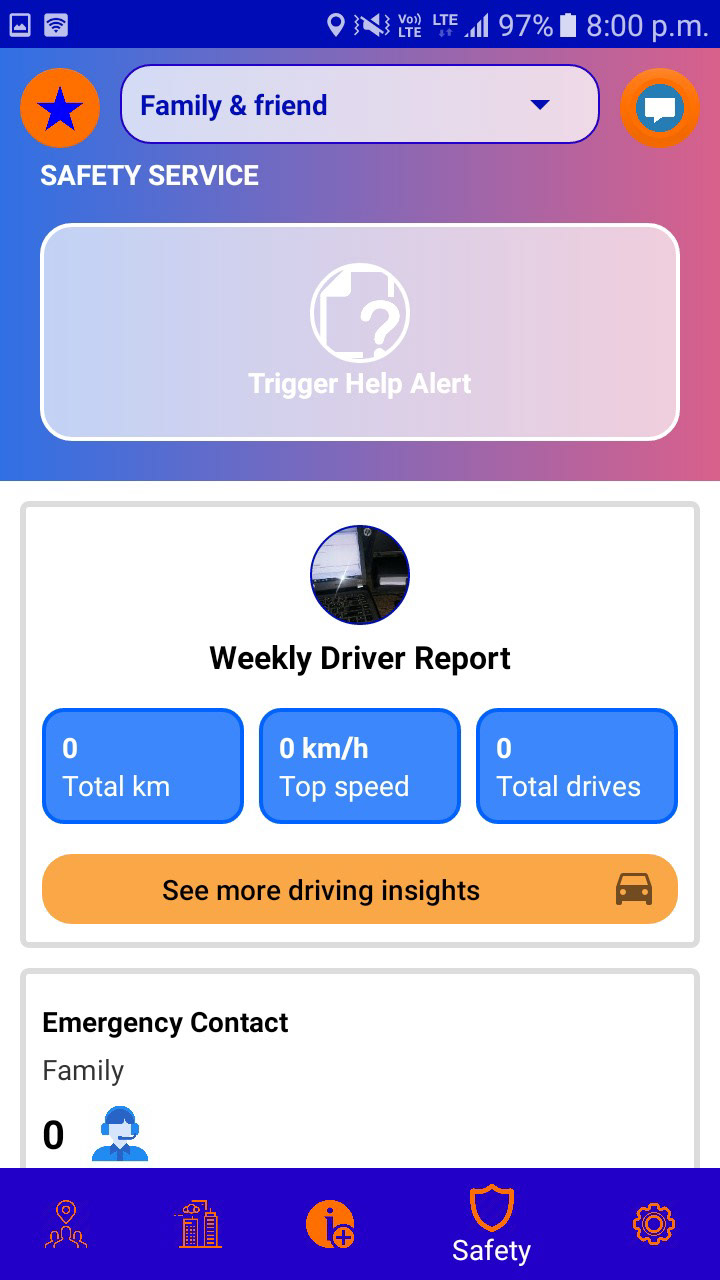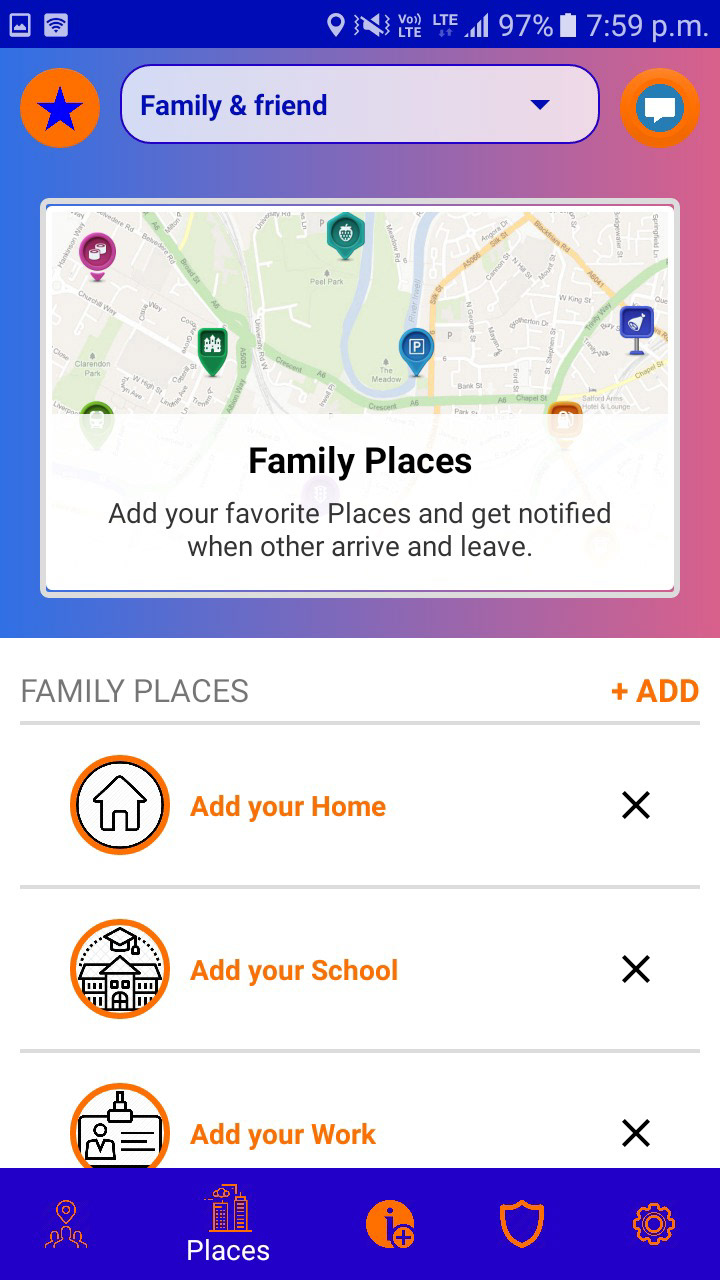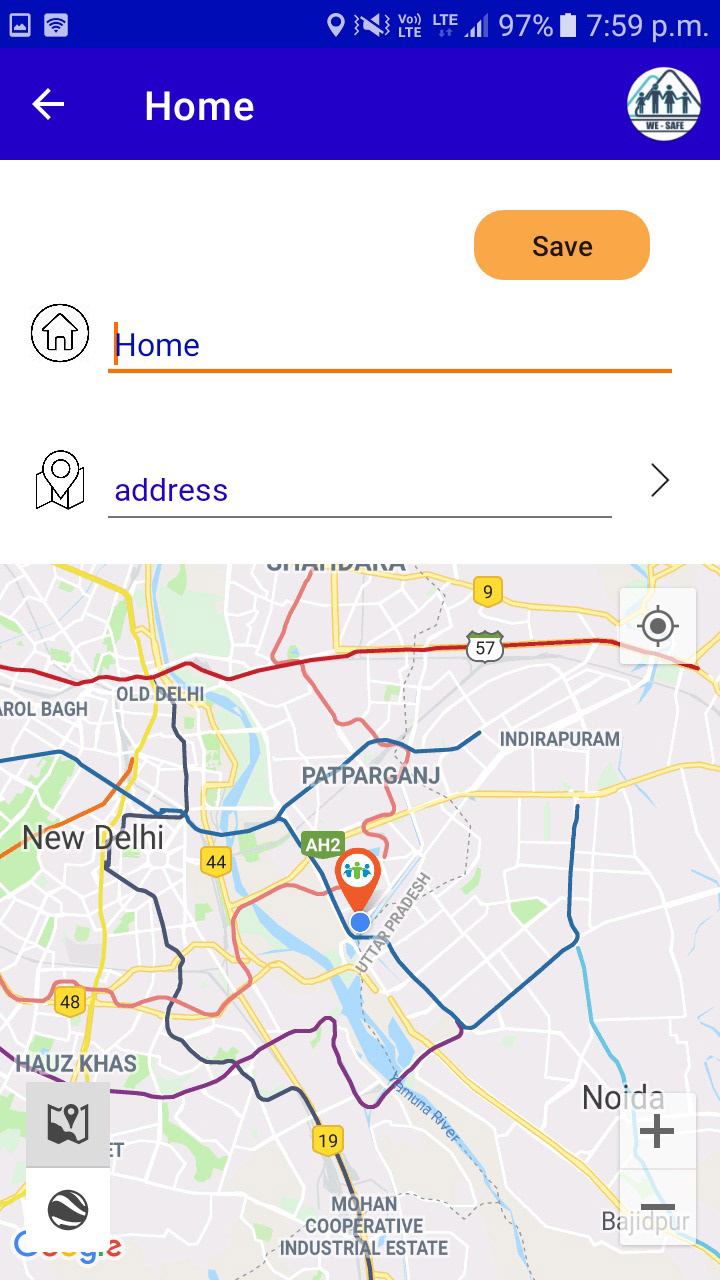 The problem with this is firstly this space is pretty saturated with big players.  But the big issue is that it doesn't seem empathetic. Tracking PCIs seemed borderline unethical, and can be a concern for potential users.  And would a startup like WeTraq want to be responsible with maintaining that data securely? The scope just seemed too big. Without knowing where to go with this project, I opened the verizon into what to research significantly.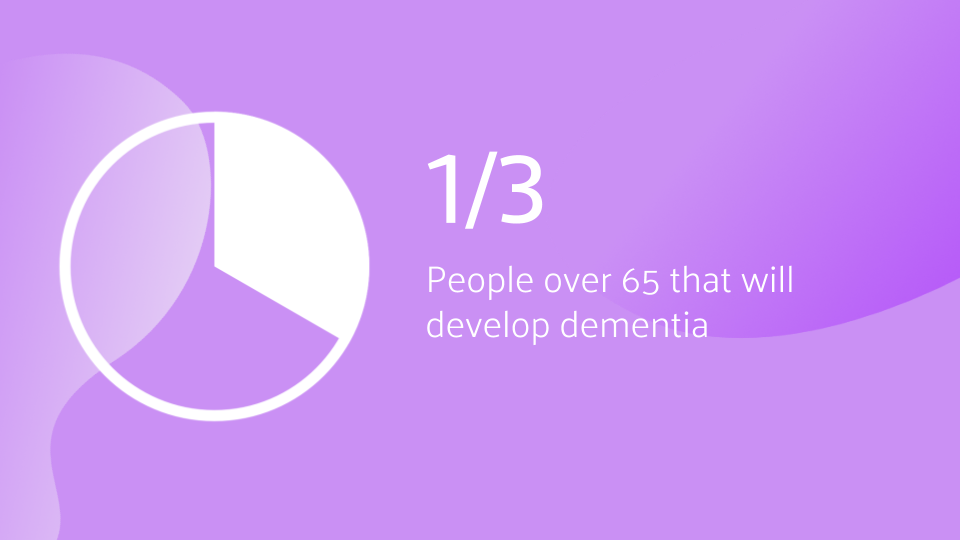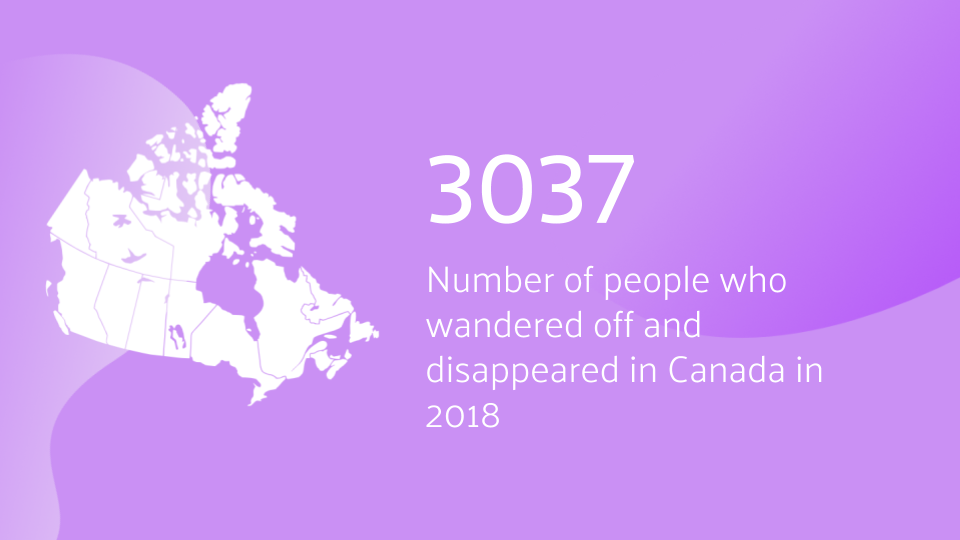 This issue was larger then I realized.  Canada is an aging country and in the future the issue of how we care of the old is only going to magnify.

With some of my initial insights I created this proto-persona.  This was to map out my constraints when it comes to reaching out for user interviews.  This is for a user of my app which is not the PCI but instead the person who would be their guardian.  I decided that I needed to narrow down the scope even further from a carer of any PCIs (including autism) to people tending for their elderly parent.  This is to be able to focus on a core product, rather then tend to a huge list of needs for each type of PCIs.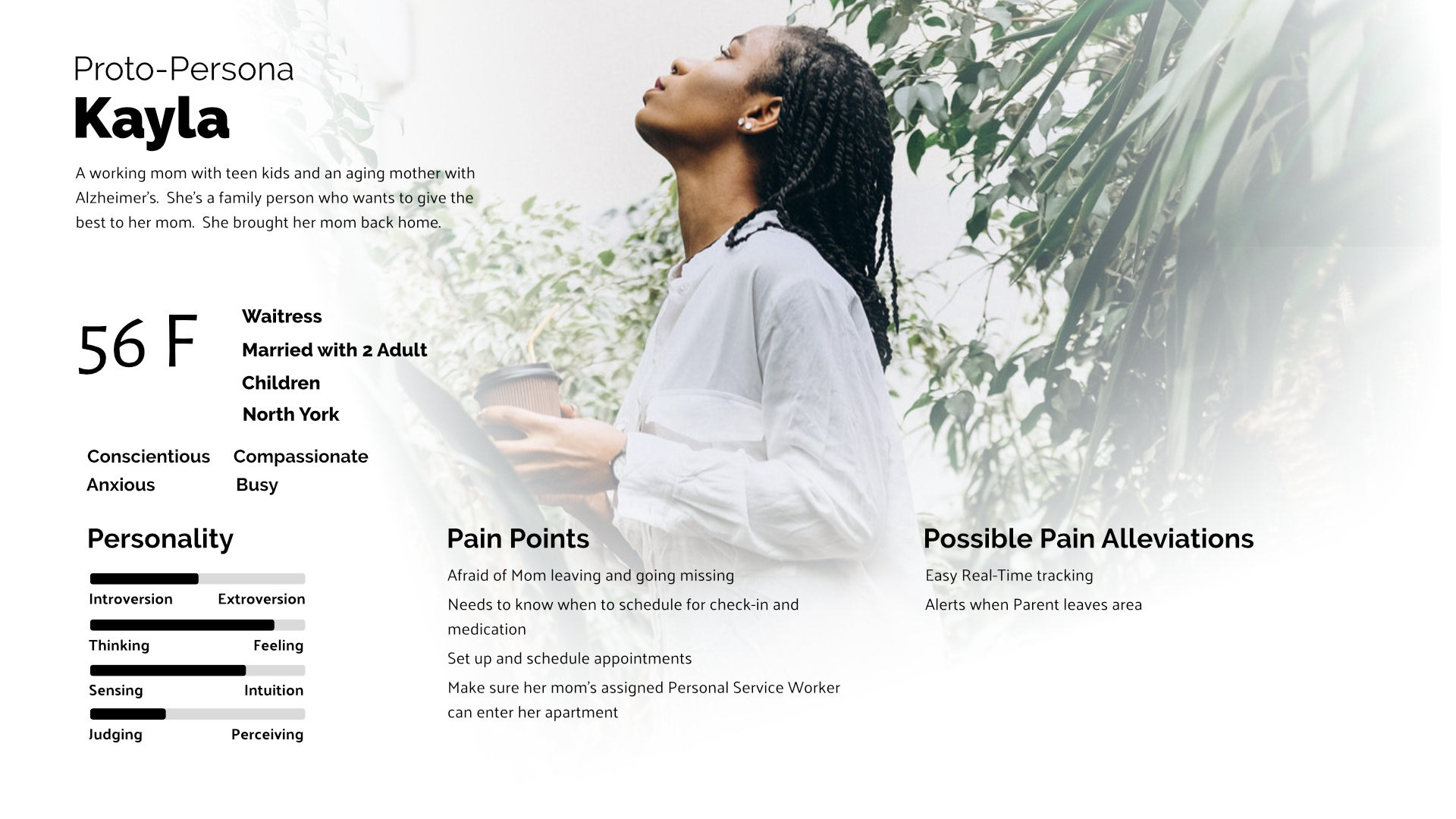 Constraints
I reached out to some contacts that fit this proto-persona in a loose sense.  People who had experience with elderly family. I wanted to get both sides, from a 'civilian' to health care workers.  Unfortunately I learned that PSWs have to keep their work confidential and so wouldn't do an interview.  Since most elderly tend to be women and most who do elder care either professionally or in familial duty are also women, I used this to narrow my view when looking for people.  I did a combination of in-person interviews to phone calls, one partially being on my way home on a subway.
Summary
25F
"Patients would walk out of the hospital, One walked out and got lost and died"
Grandmother suffered from Dementia.  She came from Korea shortly before being diagnosed and it was sad to see her become very quiet and lack understanding.  It was extremely hard for her to cope with not only the disease but in a new country.  It was hard and expensive. She eventually decided to leave back to Korea to live with her family there.
JS
Mid 60s F
Registered Nurse who makes home calls for vulnerable people from a day old baby to a 101 year old man for the last 28 years.  She focuses on end-of-life care checking vitals of your patients and supplies them with the proper treatment, meals and medicine.  She needs to be sure that she knows her patients well as illness can set in very quickly otherwise.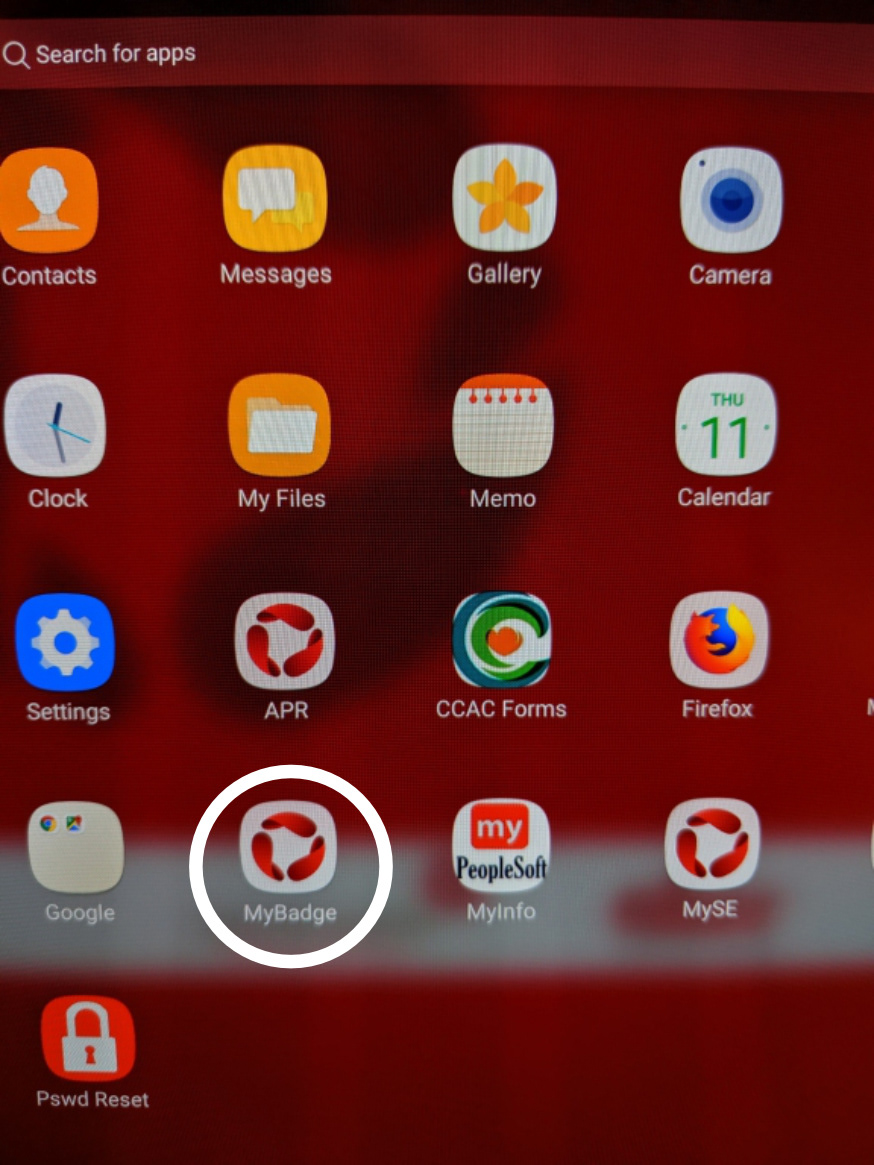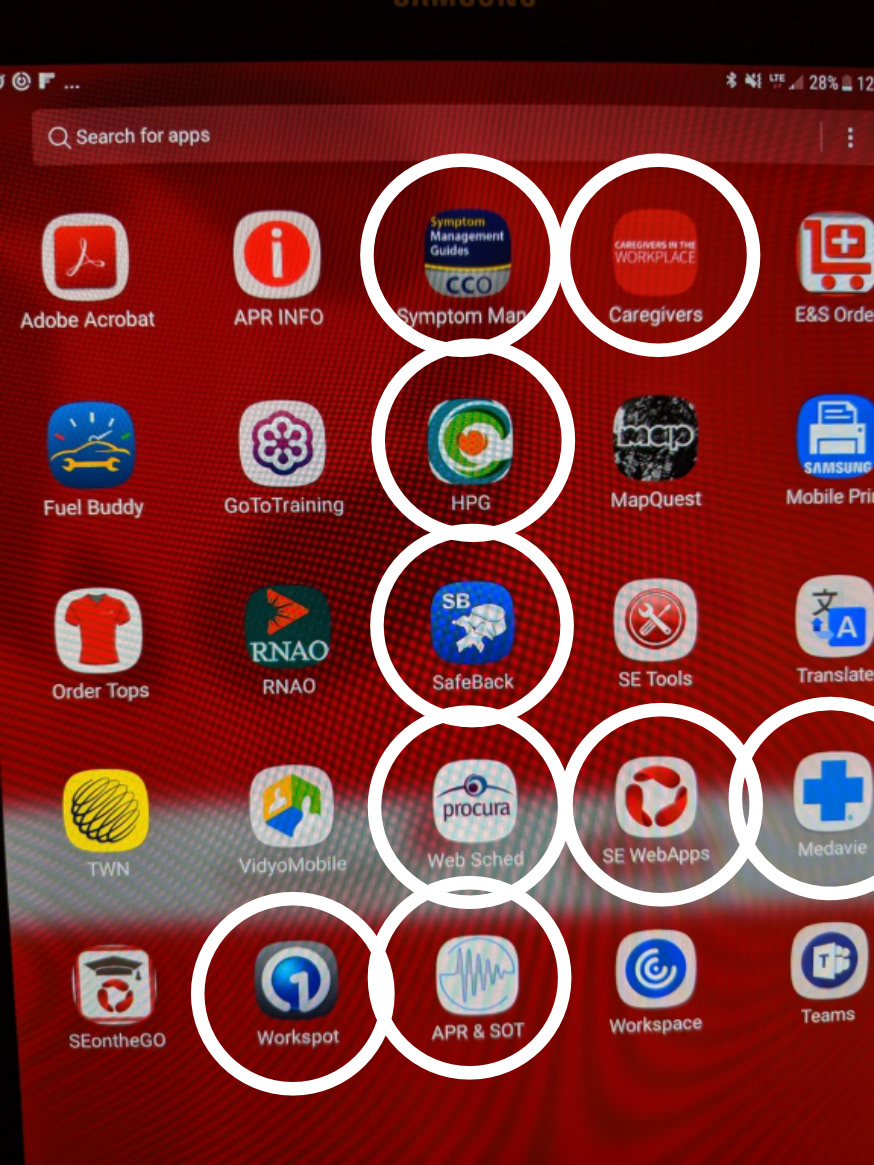 24F
"Songs make her instantly remember things.  [We would do things like] taking a branch for her for Christmas, Hanukkah, to decorate her room, [you] have to keep her busy and interested"
Grandmother suffered from a long history of illness from Breast Cancer to Dementia.  Her grandmother can understand her own decline in mental facilities but nonetheless likes to try hard to make everyone smile.  LZ is heartbroken seeing her grandmother struggle while others act out of selfishness but worries about her carers, her son (LZ dad) and husband (LZ's grandfather).  They try to find ideas to simulate Grandmother's mind as they found out it can bring back memories.
62F 
Retired mom of two.  She made the effort to keep her mother from a nursing home after complications of an illness dramatically lowered her physical and mental condition.  She spent full time caring for her for 13 years. It was difficult to care for her but is happy to keep her close to the family she loves.
23F 
"People makes her memories come back.  Grandpa's funeral friends sparks memory."
Grandma who was a proficient architect.  Extremely close with her as a child but saw her mentally decline.  Her grandmother is too trusting and has been swindled and stolen from.  Her once sharp memory has dropped to the point where she buys birthday gifts, but cannot remember why once her gives them.  Got lost a few times trying to follow family members even after saying bye. She feels extremely lonely.
Insights
This was quite a hard but cathartic experience of the hardships that people go through, but it really highlighted an unspoken truth that many people feel.  Even as I was in the developing phase of this project and told tech friends about what I was working on, the amount of similar stories would come up was unbelievable.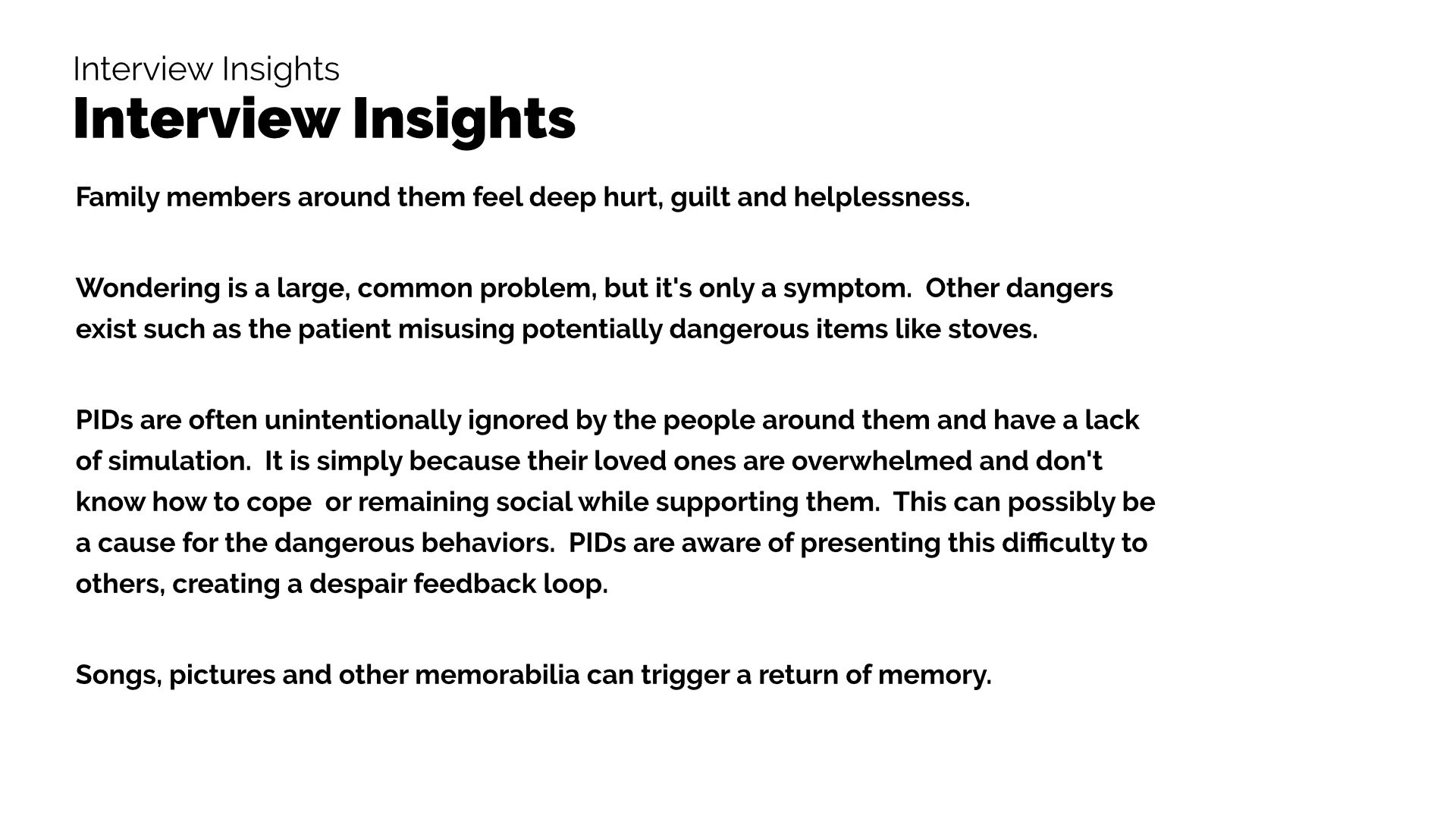 Taking all the notes I have made during each of my interviews, categorized them into pain points, behaviour and motivations.  Many of the pains were that is was expensive for care and that conditions that the elderly have spreads to the people that care for them.  Behaviorally the elderly do more dangerous actions then just running away such as leaving the stove on or unscrupulous people taking advantage over them. This helped me find what to pick out.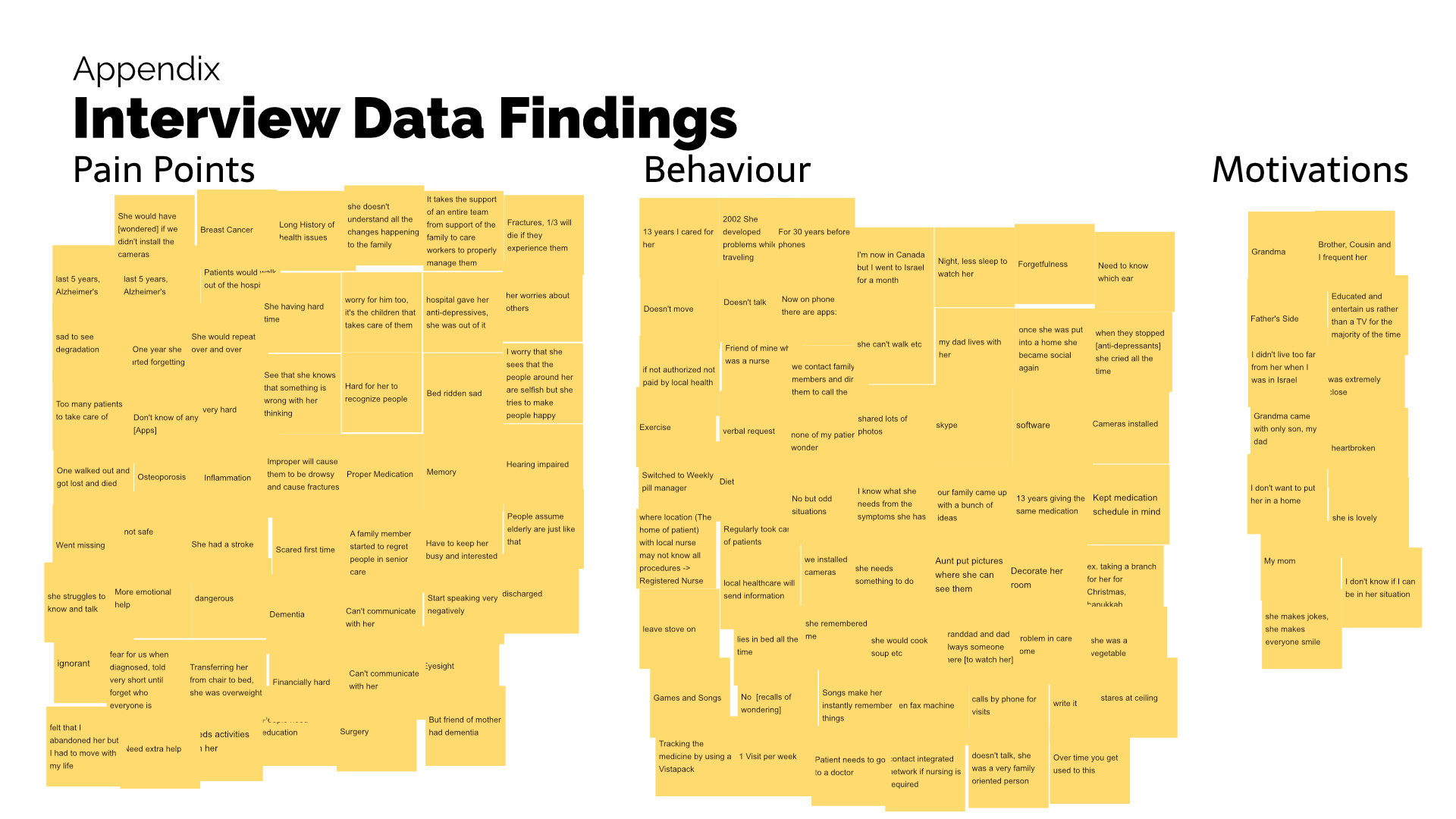 Then I rearranged the notes into themes.  Organizing them in a more organic way I was able to find what deep issue I can try to solve with this app.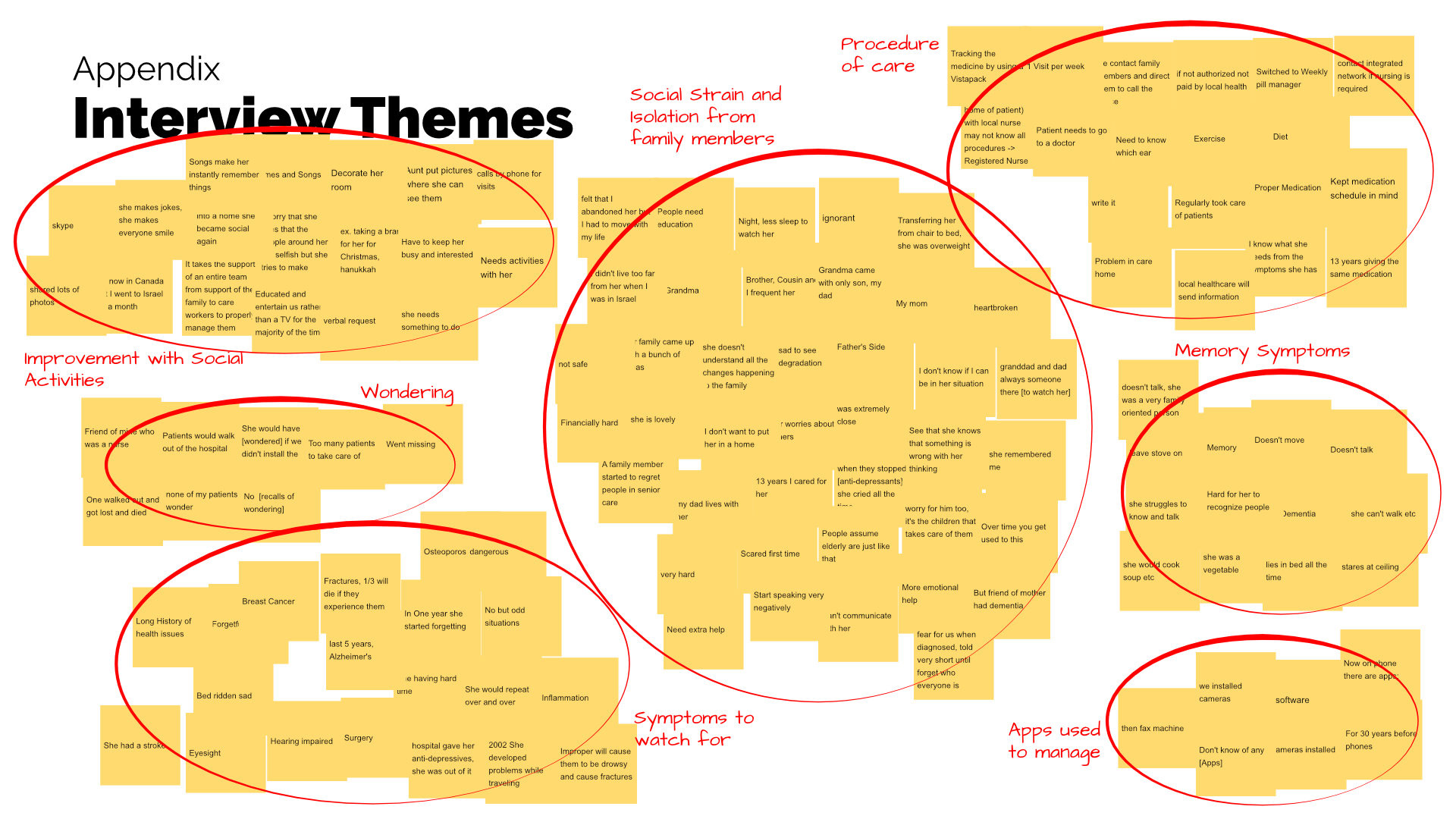 "Social Strain and Isolation from Family Members."  This stood out strongly. Grandma knows that her cognitive decline is happening.  The family does not know how to handle or approach this change, and so they unknowingly withdraw from emotional fulfillment.  The grandma understands and sees this and becomes more lonely and depressed. She then tries to do potentially dangerous behaviours in an attempt to reconnect with her loved ones (ex. Trying to cook so that she can feed her family in a social setting).  This increases the tension between her and her family as the family tries to prevent her from doing this and so a feedback loop of isolation starts to spiral.
By creating a way to suggest engaging activities for caregivers and their elders to do together, it will create more social cohesion, boost mood and distract patients enough to reduce dangerous behaviours in the elders.
If we can educate family members of how to keep their family close with their elders, they won't need to do dangerous behaviours like wandering.

With the interview data, I recrafted a new persona based on them.  I wanted to look at not just the direct user of this app but the net beneficiary of this, the elder the primary persona is tending for.  In this case it is the primary persona's mother.  It is important that this app work so that the elder really gains emotionally from this experience and not just a problem the primary persona is trying to manage.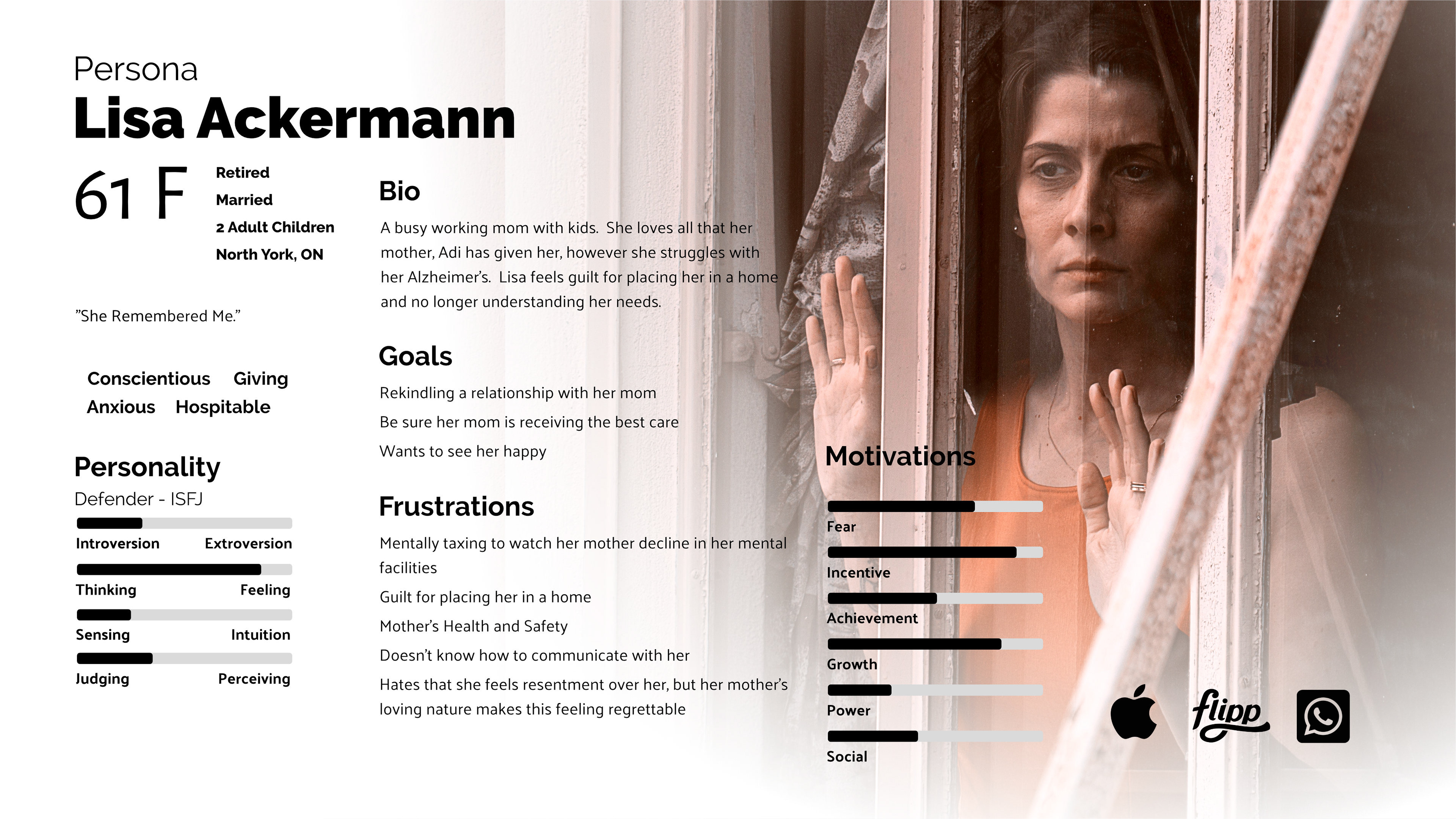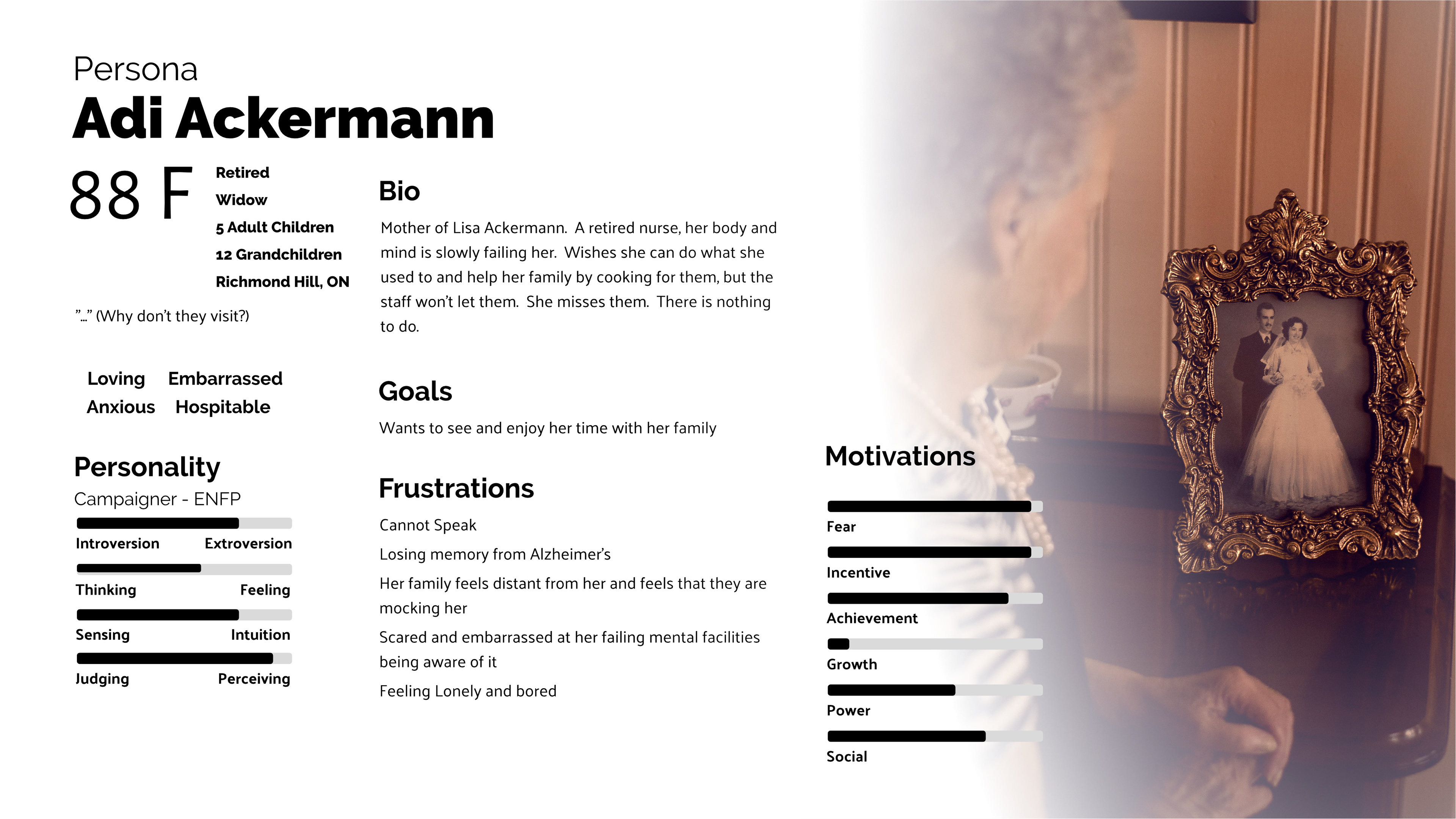 So what does Anna do currently to make sure Adi is safe?  I made proto-experience map that allowed me to put together her general emotional state.  How does she feel, think and do?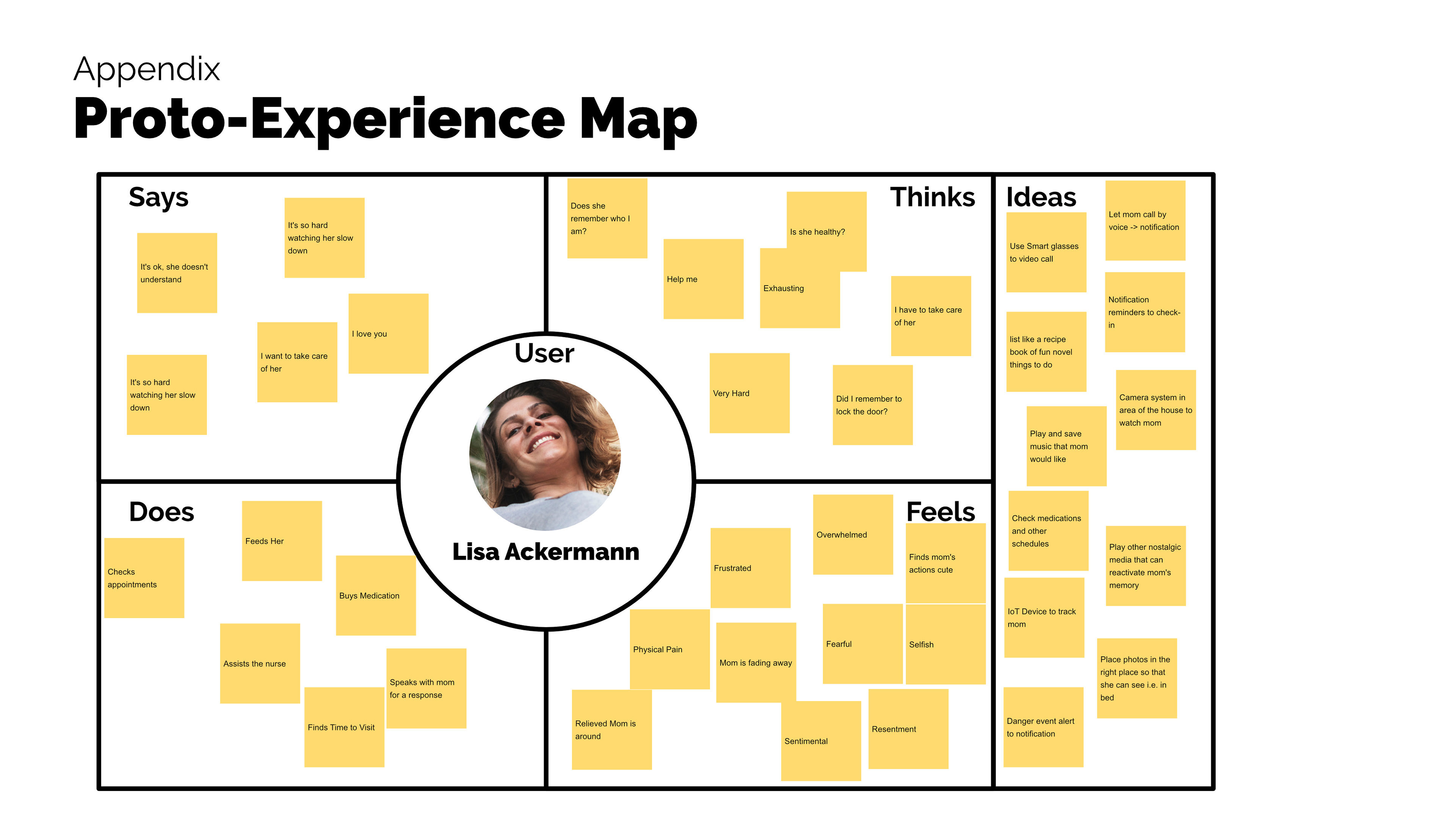 Next is a user journey map from the point where Adi's cognitive decline is first noticed is made.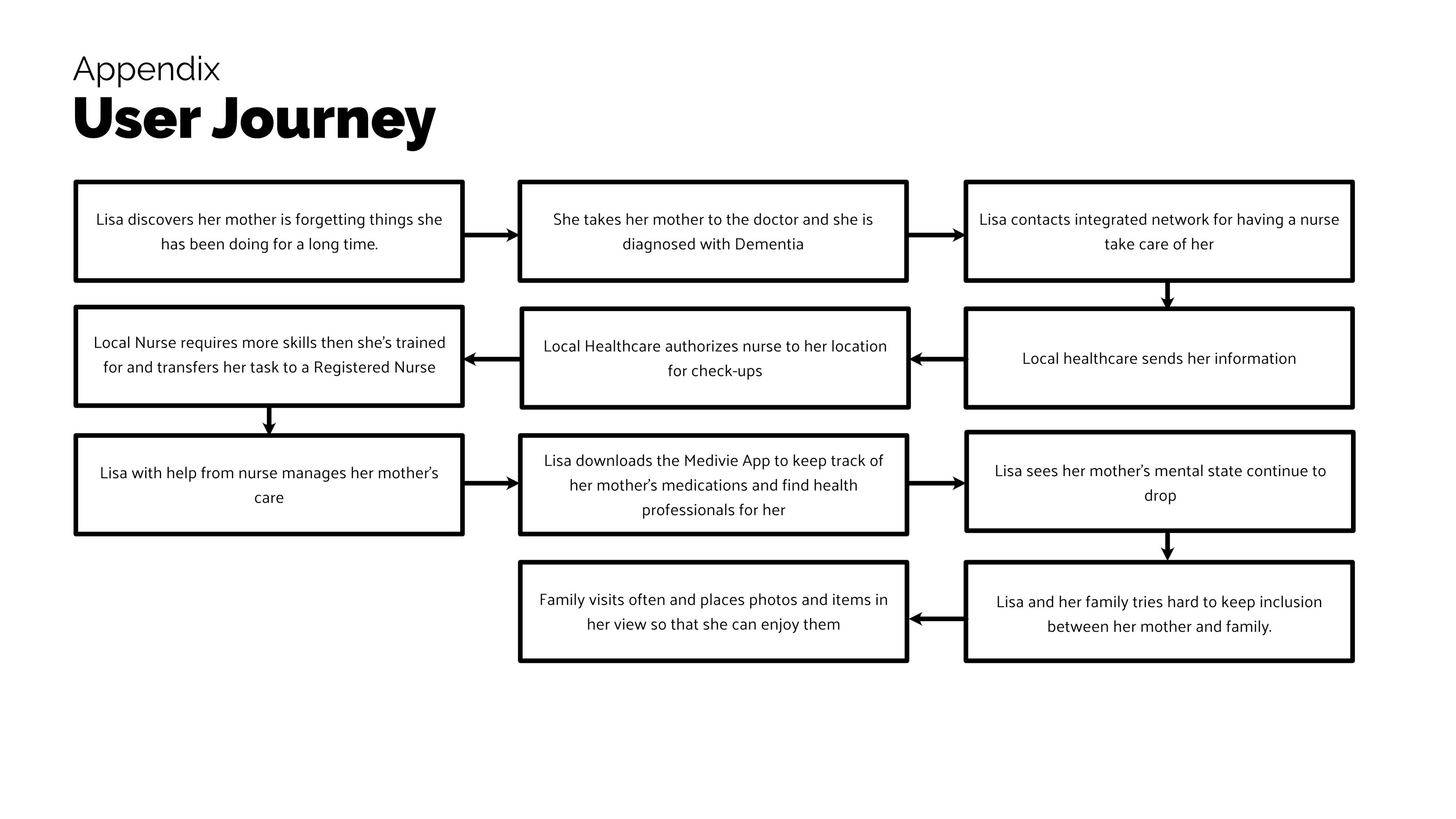 Combining them, I can create an experience map.  I looked for places where opportunities can be found that my app can try to relive.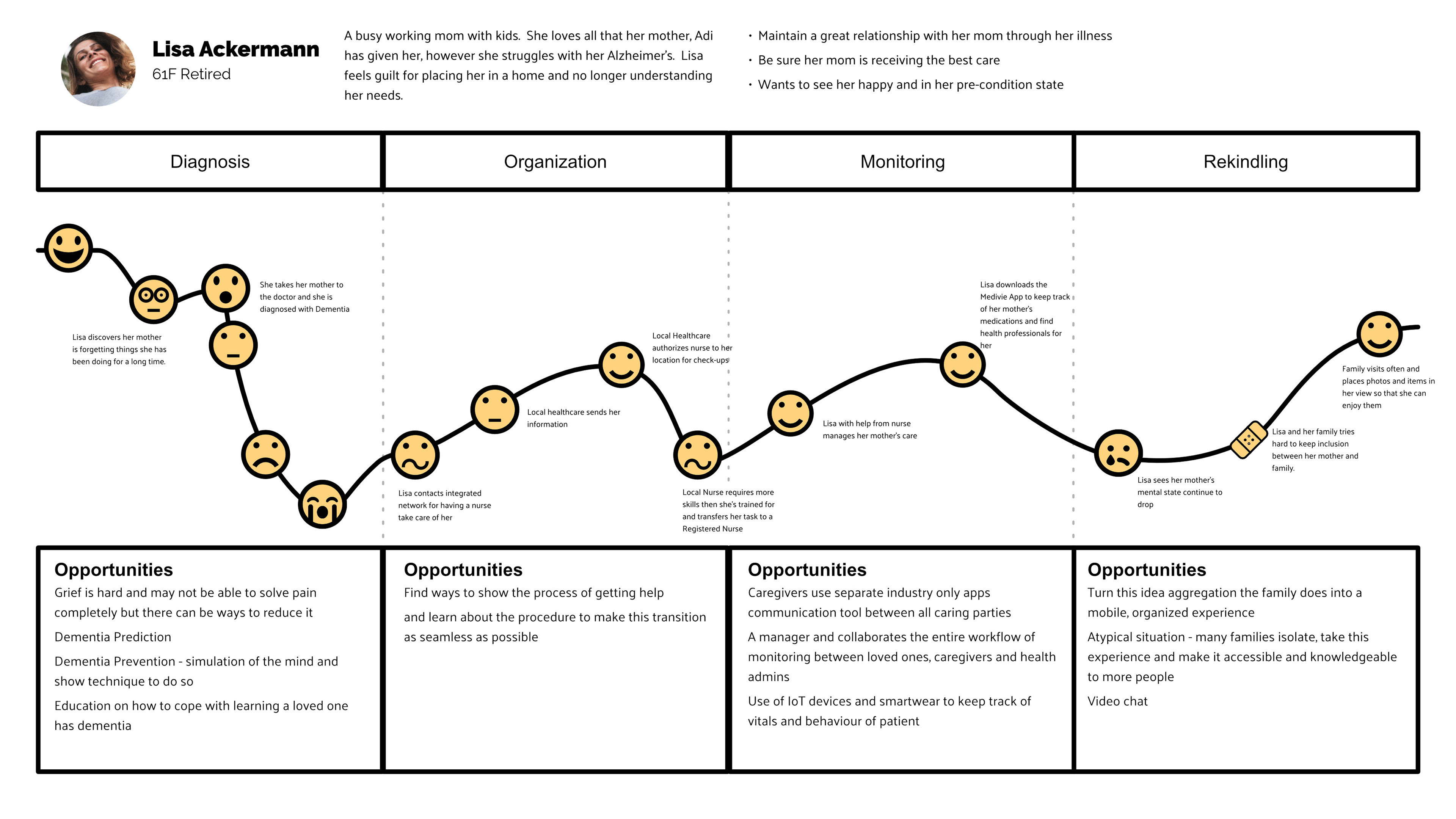 I then created an exhaustive list of stories where I can find, from those opportunities different specific tasks to solve.

Keep a Great Relationship with Patient
This Epic was chosen because of a lack of an existing market compared to medical record keeping.  Moreso it best strikes to solving the cause of PCIs from entering into potentially dangerous situations.  If they can be distracted and feel loved it can not only prevent it but slow the illness and even help the patient recall memories (such as with music).  This can also potentially help reduce 'compassion fatigue.'
Going with this epic, I looked to illustrating the steps Anna would go through in order to make the disconnect between her and Adi strong.  The app will have a large list of varied activities that is auto-generated into a schedule with AI. This schedule tailors itself based on data provided.  ex. Adi who was born in Russia would be given an activity in the schedule to listen to music she may have heard as a teen. In this way the family can find tap into recalling her memories – slowing cognitive decline – without having to know these details about their elder.  The other major activities would be scheduled call-ins from each family member to the elder. This would also help keep the elder from feeling lonely even when a physical presence may not be possible.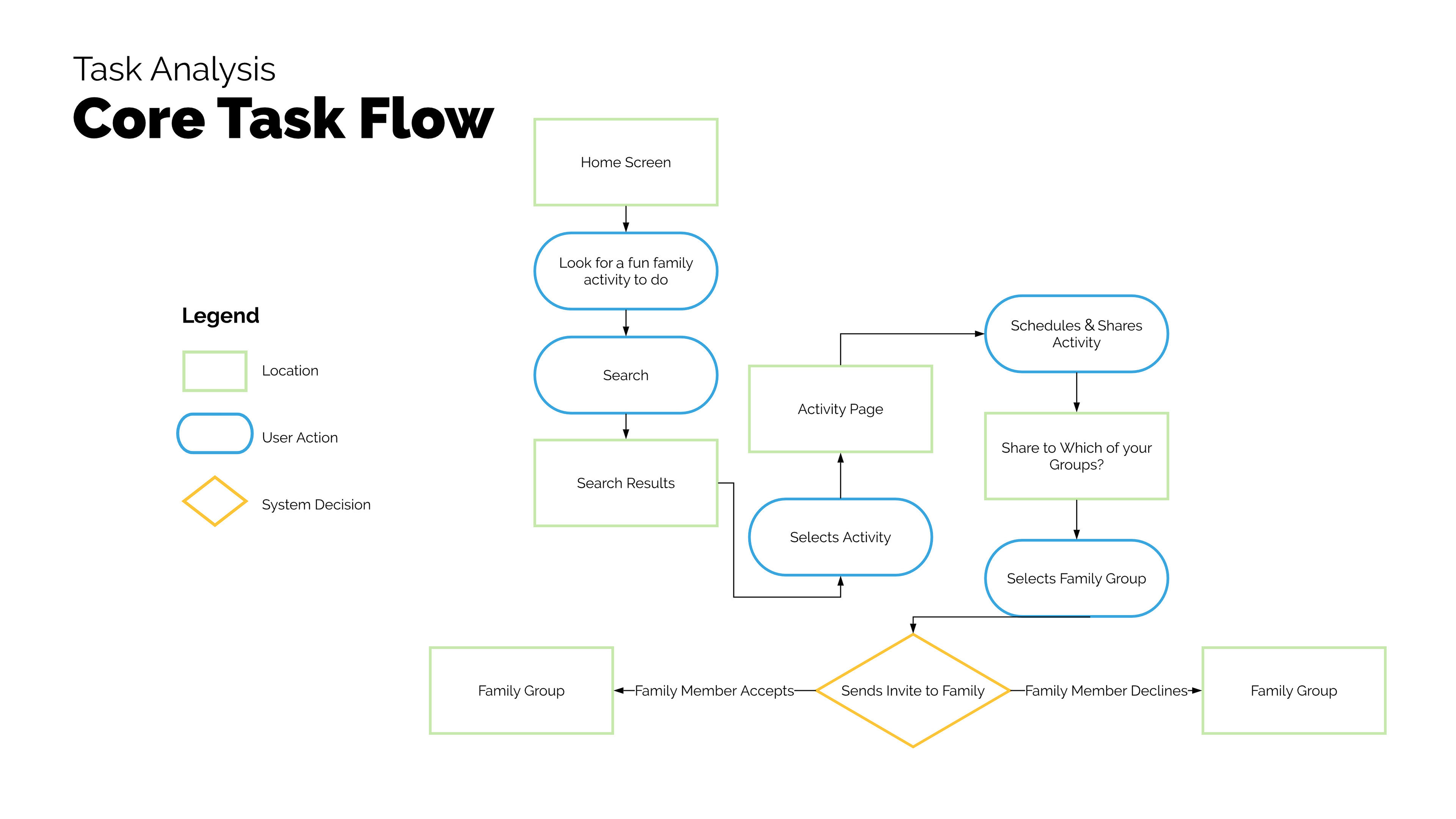 Drawing it out helps make it more concrete.  For this specific flow, an empty schedule is the starting point, which then it suggests adding family members, then asking them if they can come for an event.  It will then push out invites for the event.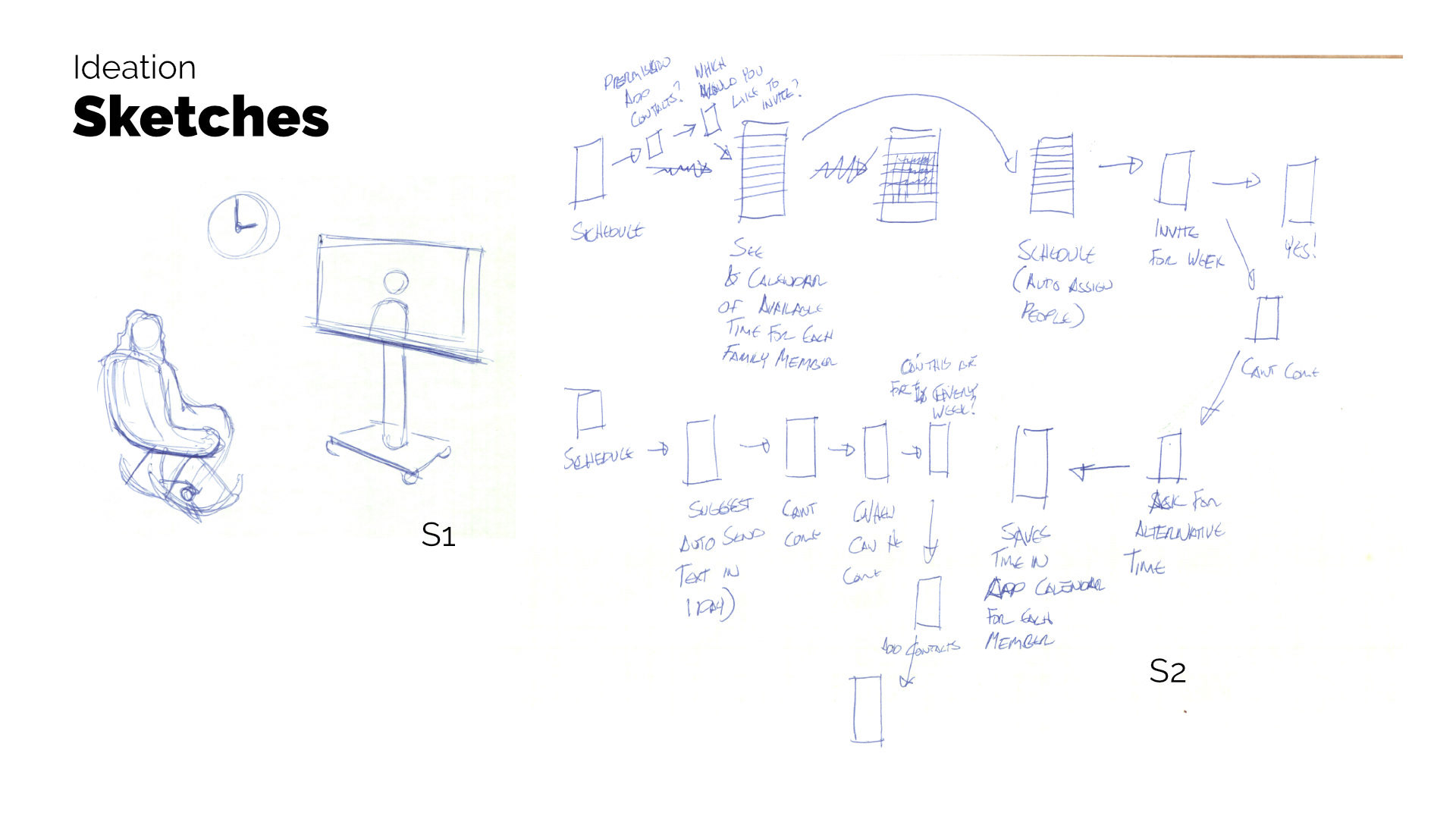 At first I considered having a lived view from the app to a screen in front of Adi.  However even this seems too intrusive.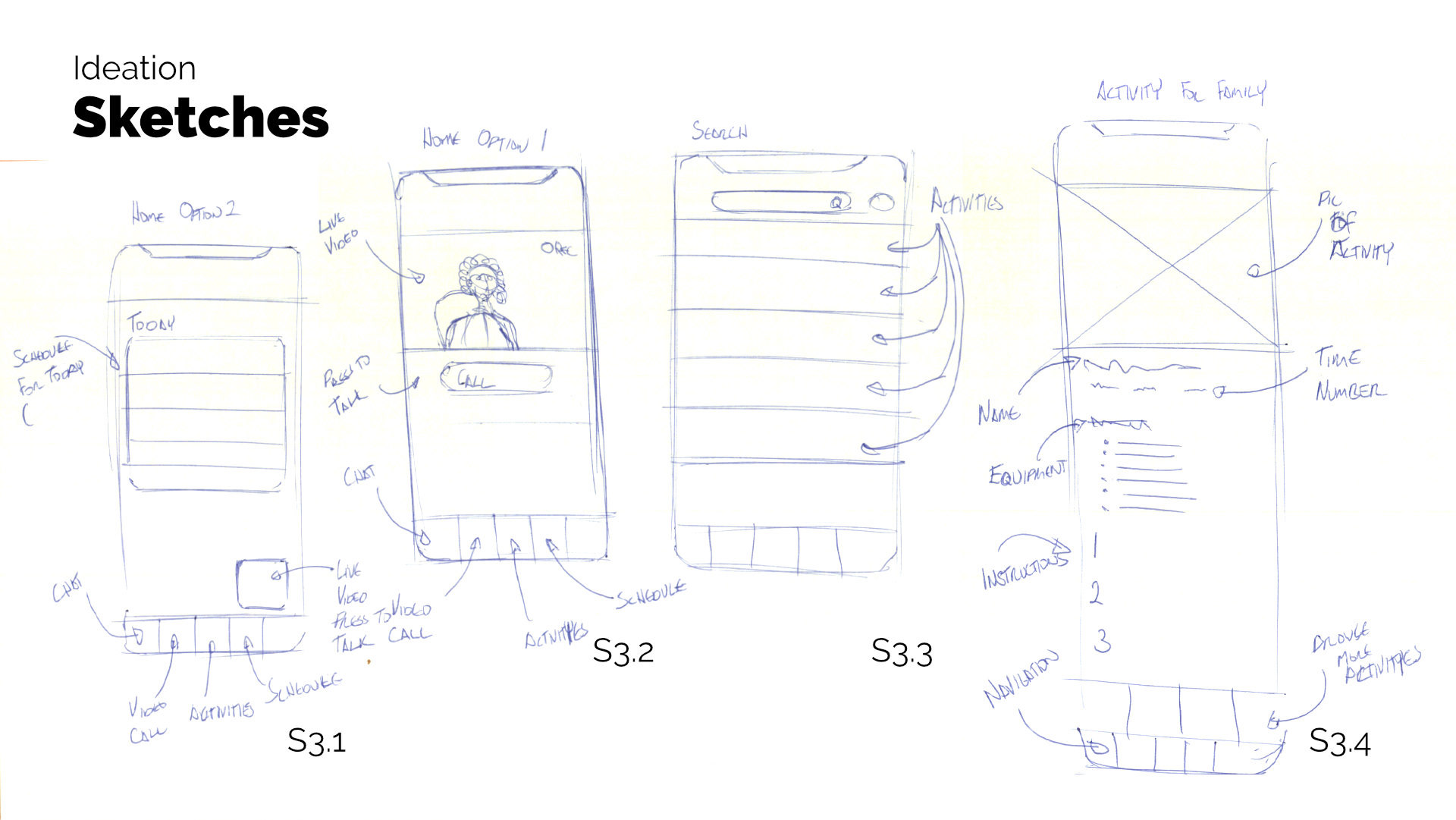 I quickly reworked the flow so that it will be the system not the user that will automatically send out invites by SMS.    Of course this will require the feature to adjust when family members are available.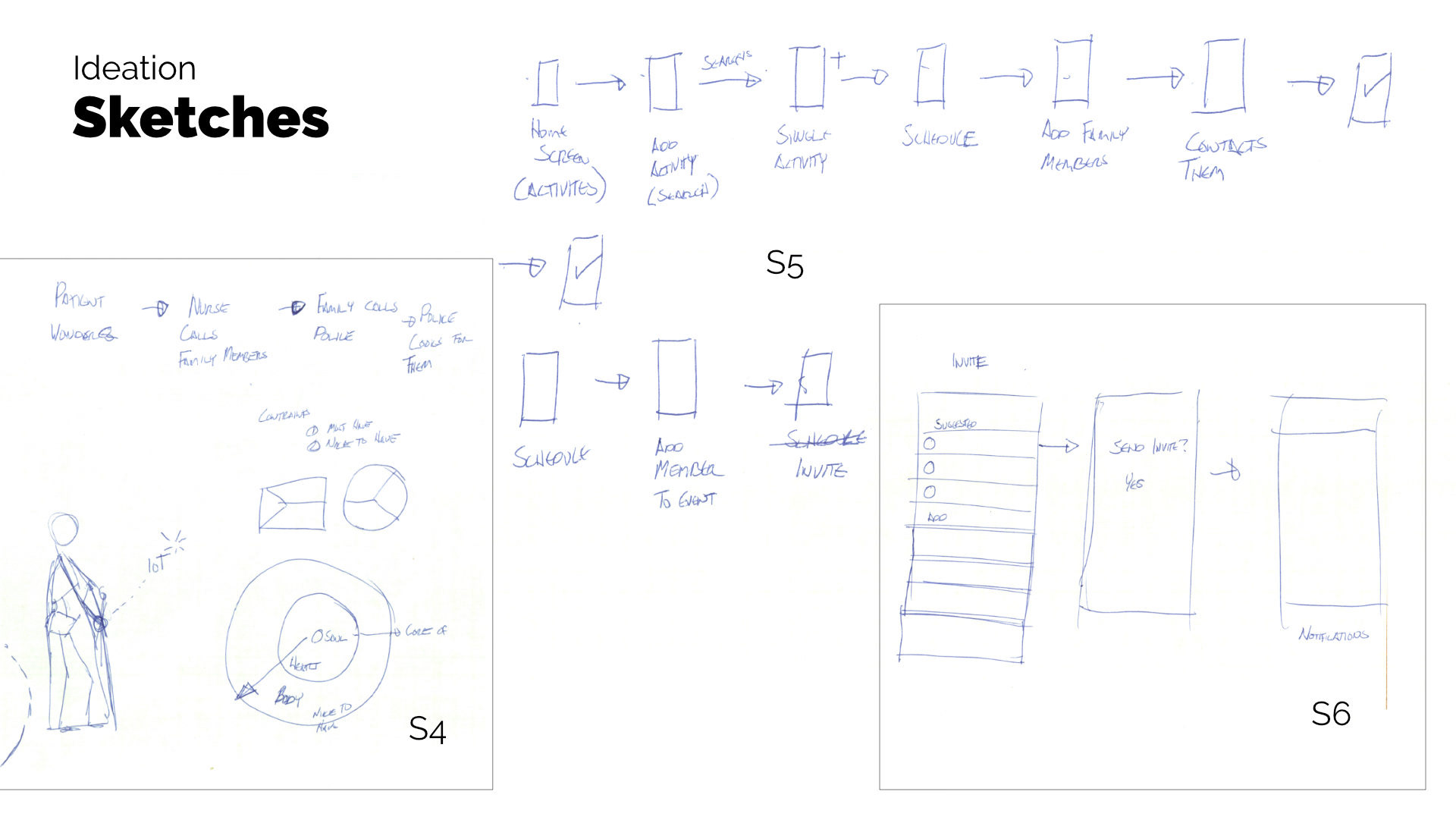 At this time I wanted to leave out the medical aspects of this app completely, like heart and monitoring nurses.  Going back to my interviews, I realized nurses have apps to help them already. I wanted to focus deeply into the social aspects of caring for an elderly parent.  So instead, we can record Adi's reaction to the activity. By having that data, it can tell the app whether to repeat the activity experience or if it really works for benefiting Adi.  Since the app is trying to do something unfamiliar, onboarding was added to help guide people who would be testing this app.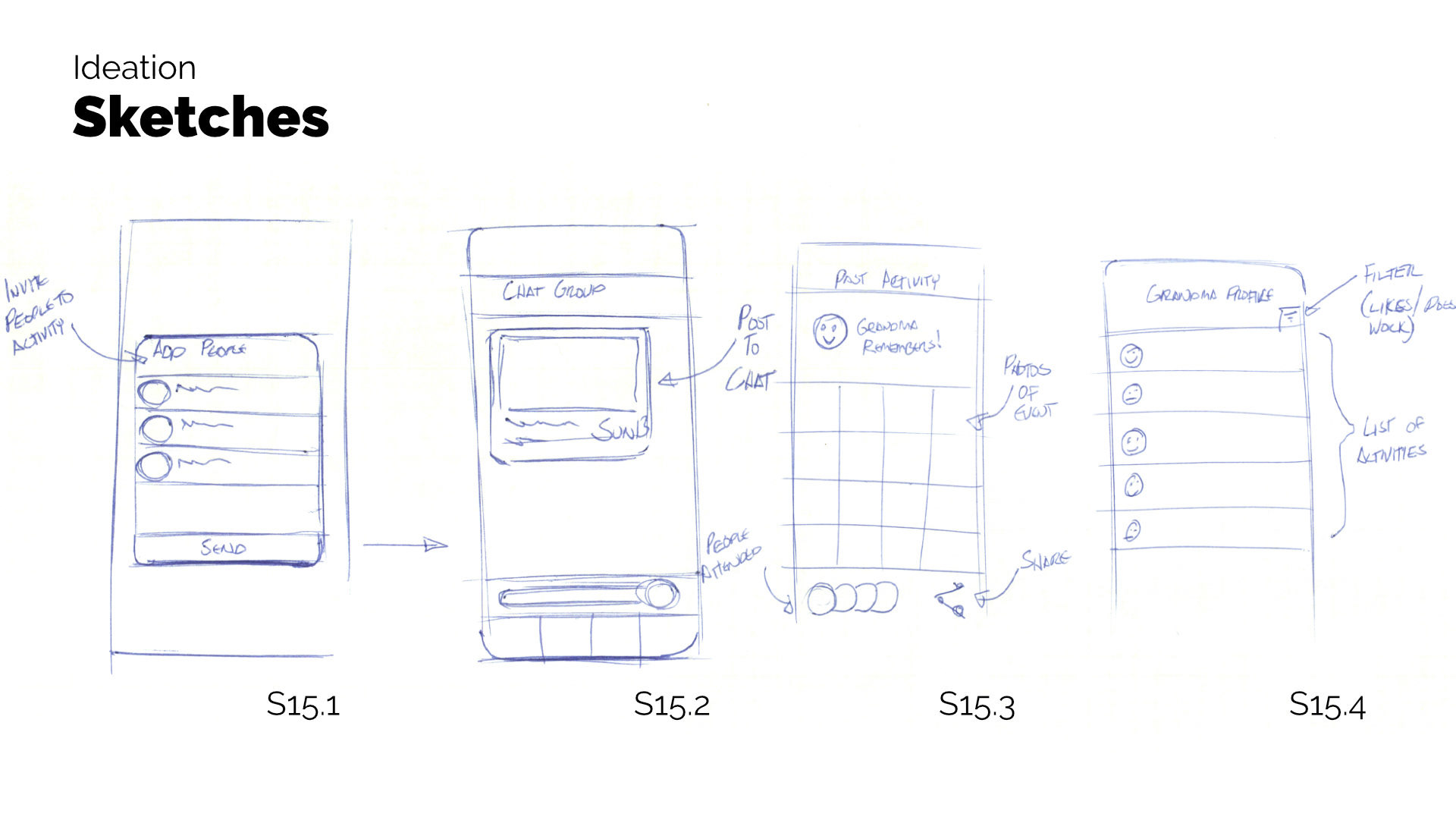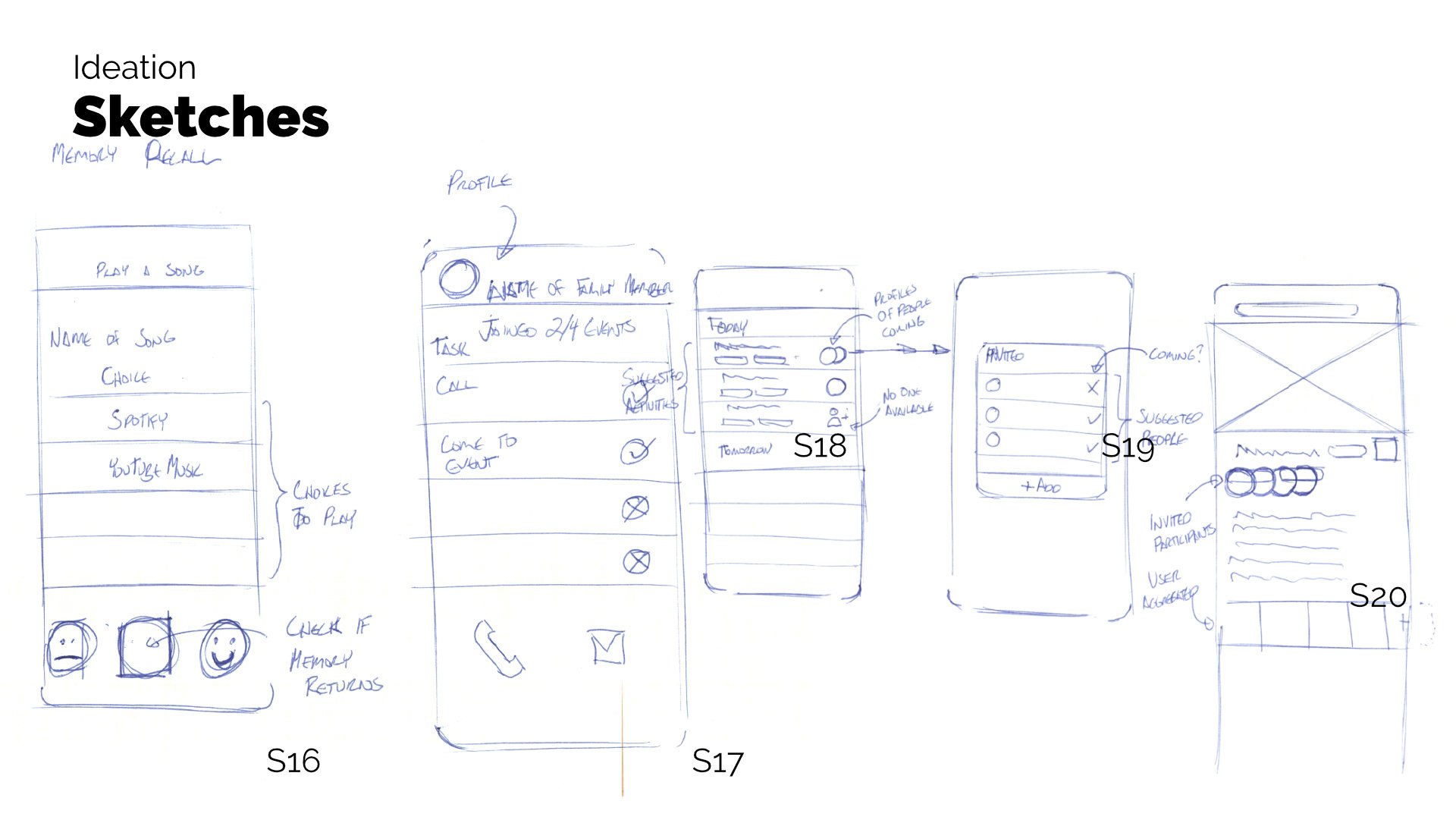 Here I looked at components of the app.  What was important to display on the home schedule page?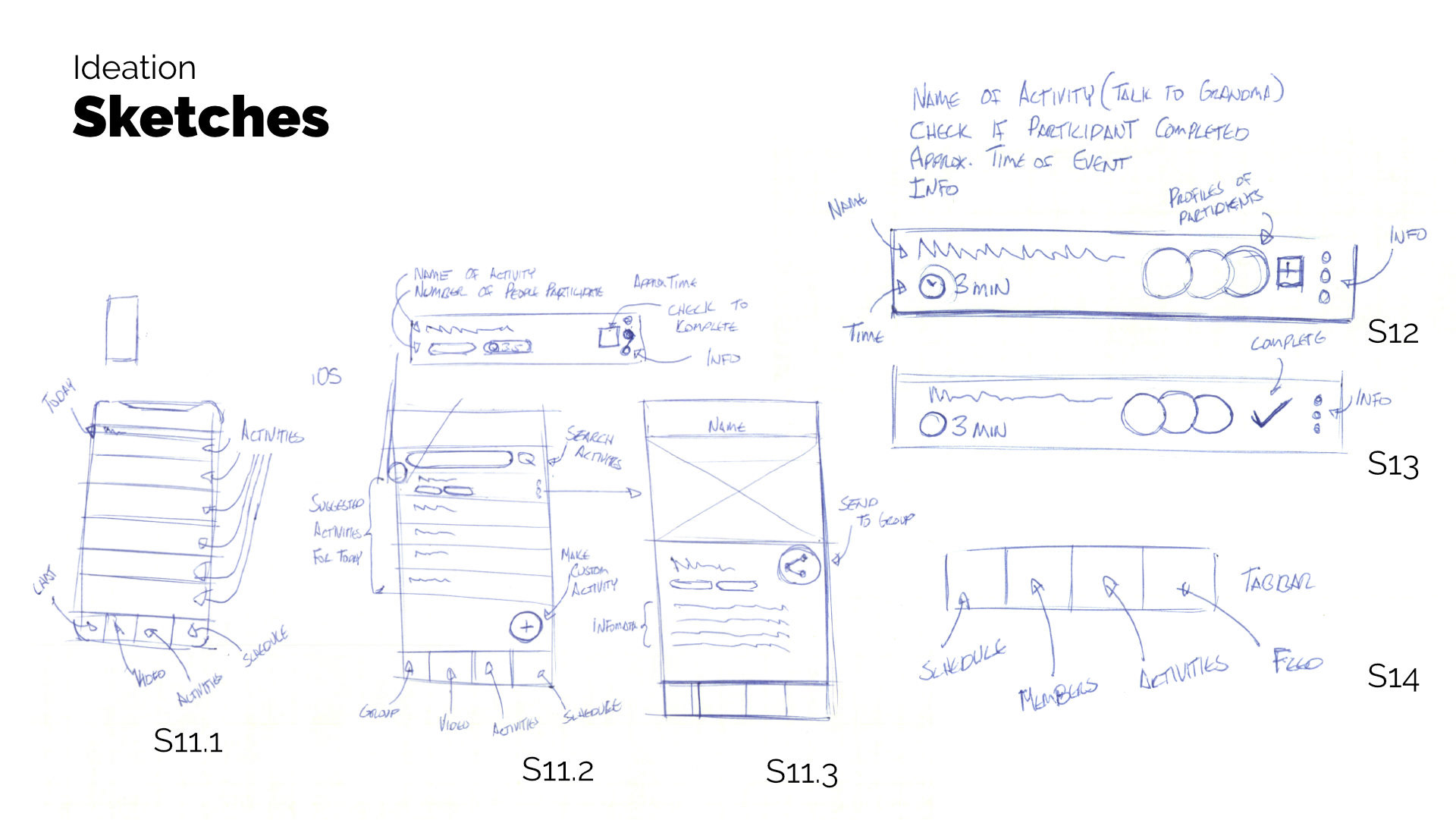 Finally I took what I have and sketched them as a Tier 2 mid-fi paper prototype and tested it in the Marvel POP app.  Seemed good...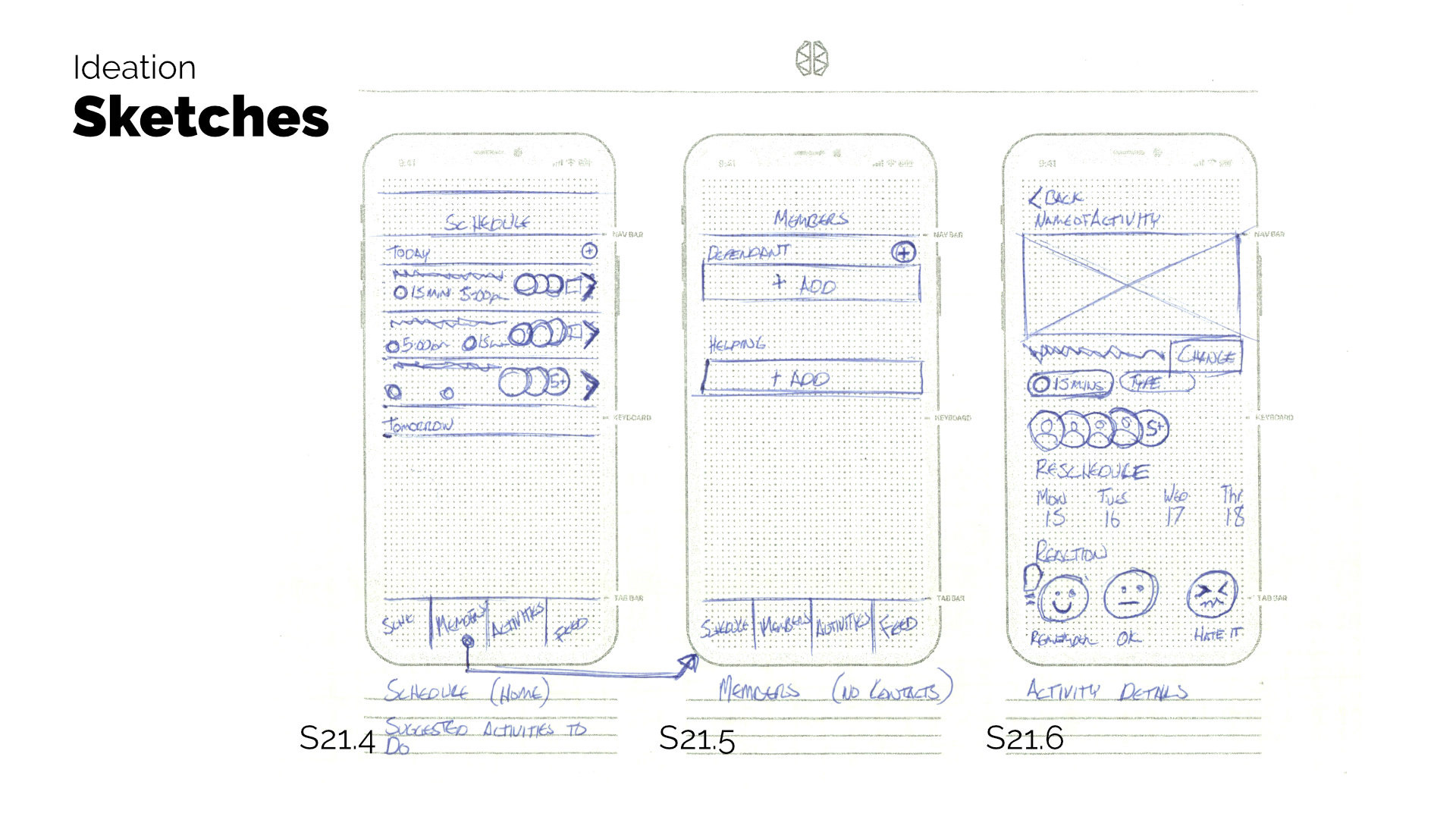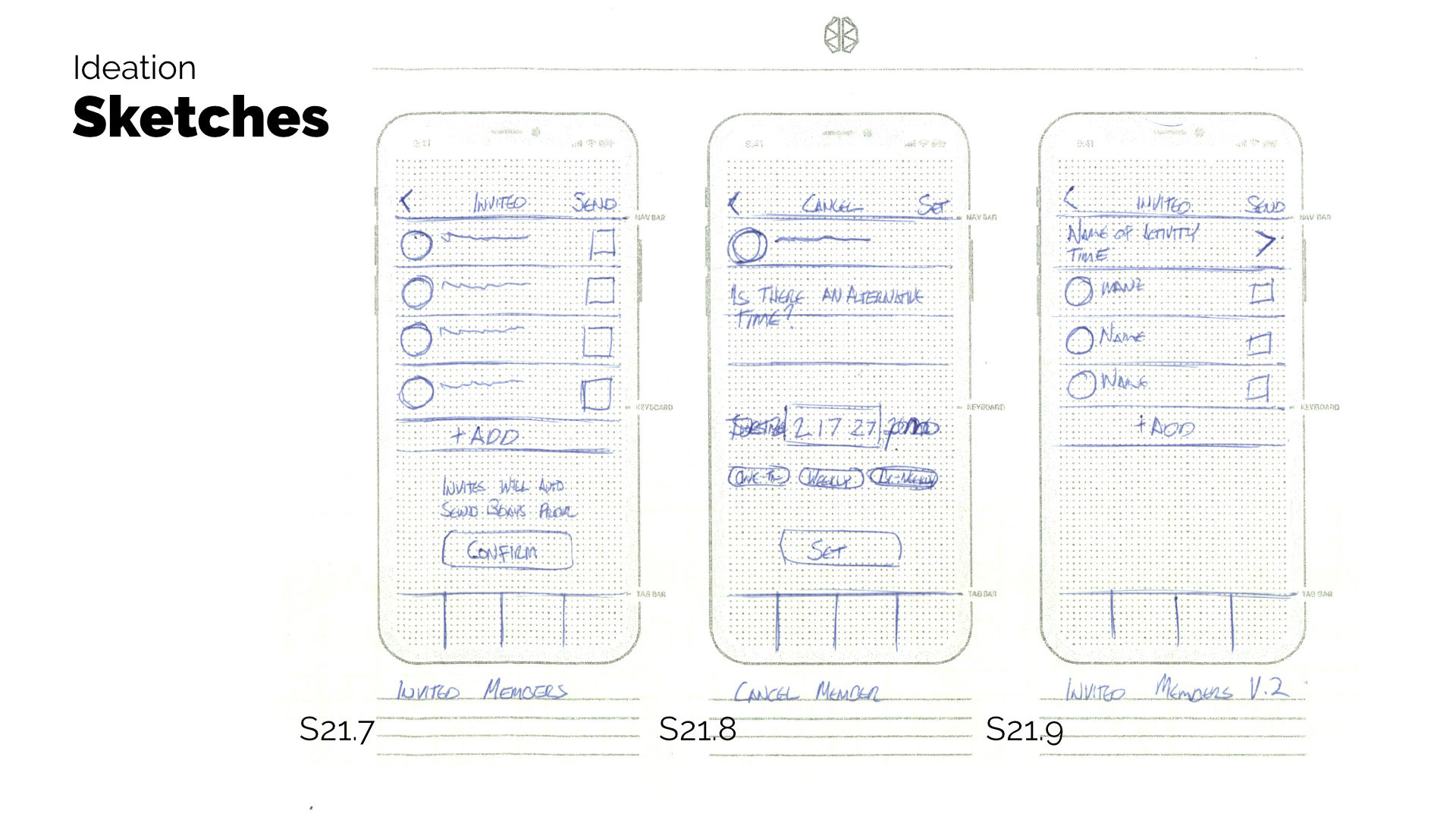 To test how well the prototype will be some usability tests were done.  There are 3 core steps – add an elder, then add in family members then finally use an activity and note down her reaction.  The questions added worked to help guide through the process without leading them because the experience like this is new.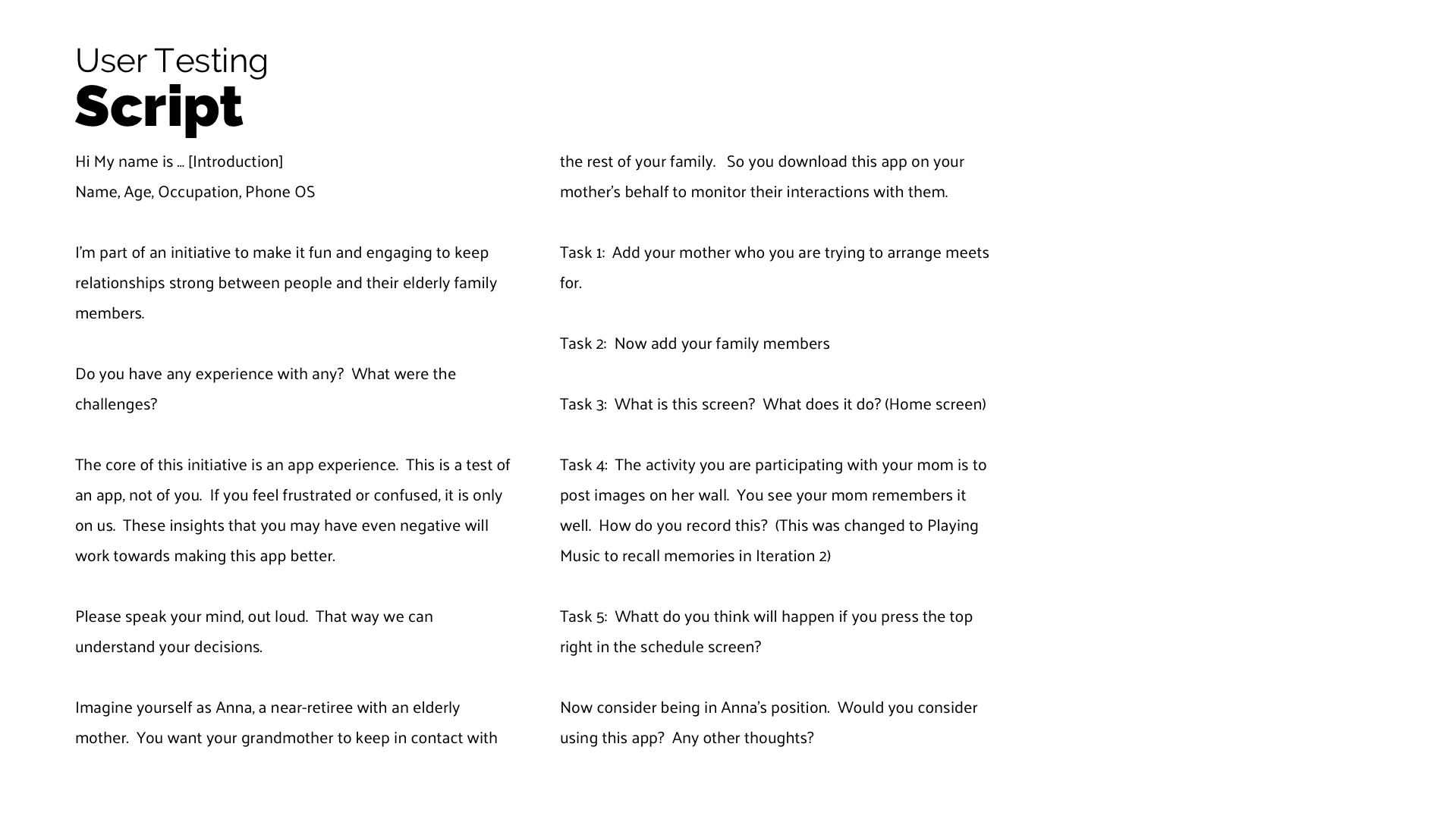 The first Iteration was a mid-fi skeleton prototype using iOS design guidelines.  Annotations were added based on feedback from the usability tests to visually highlight what worked and what did not.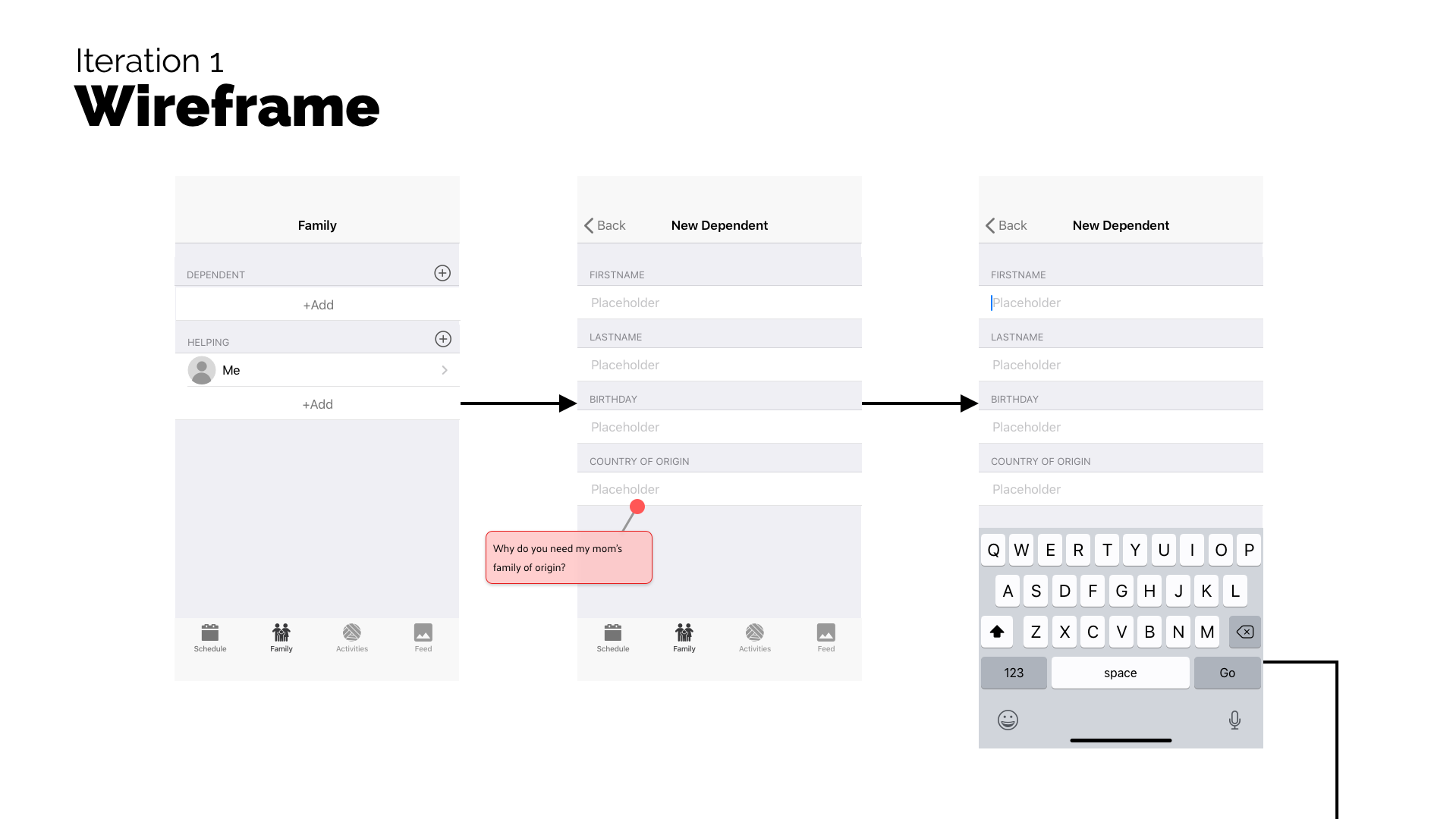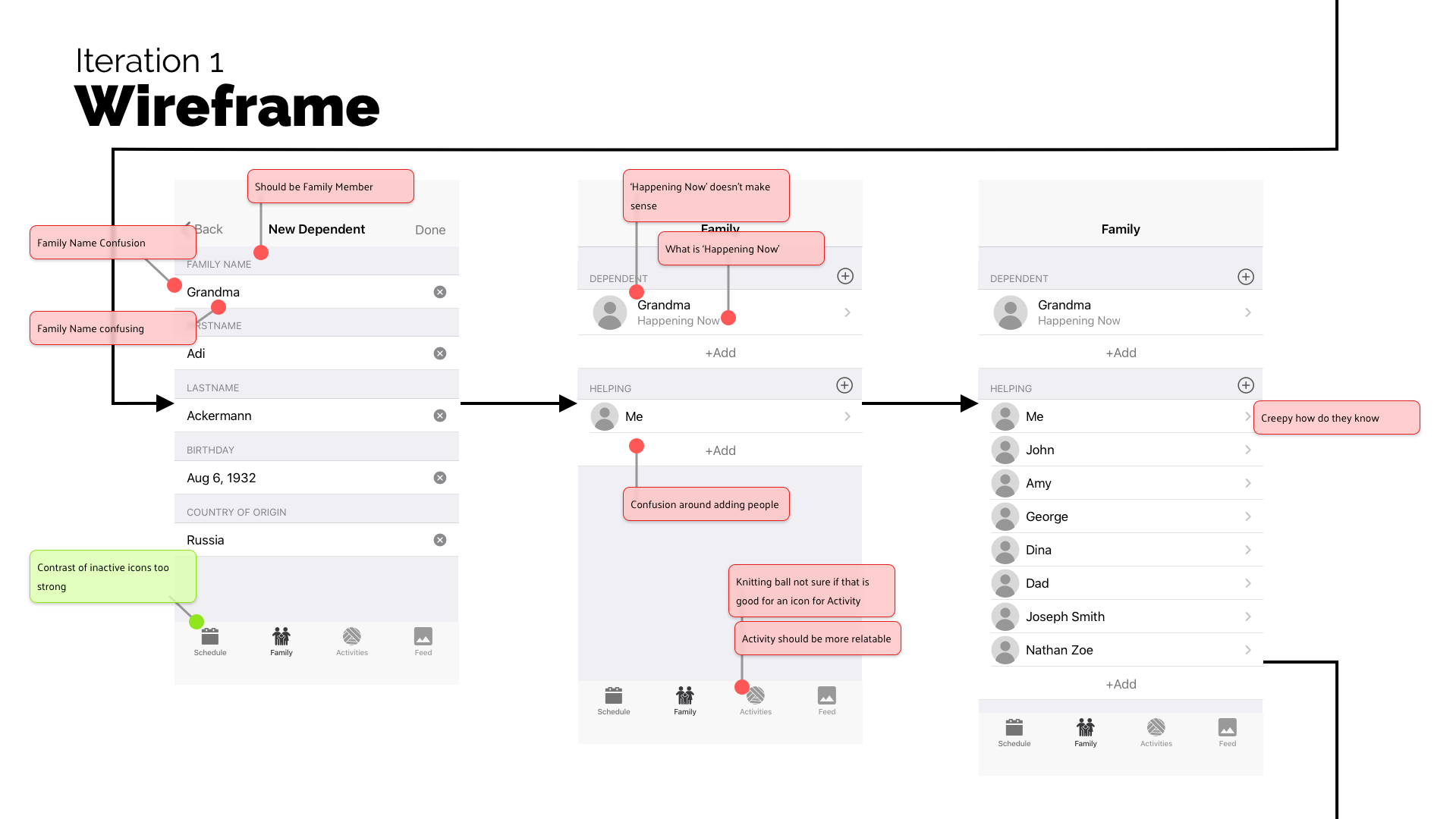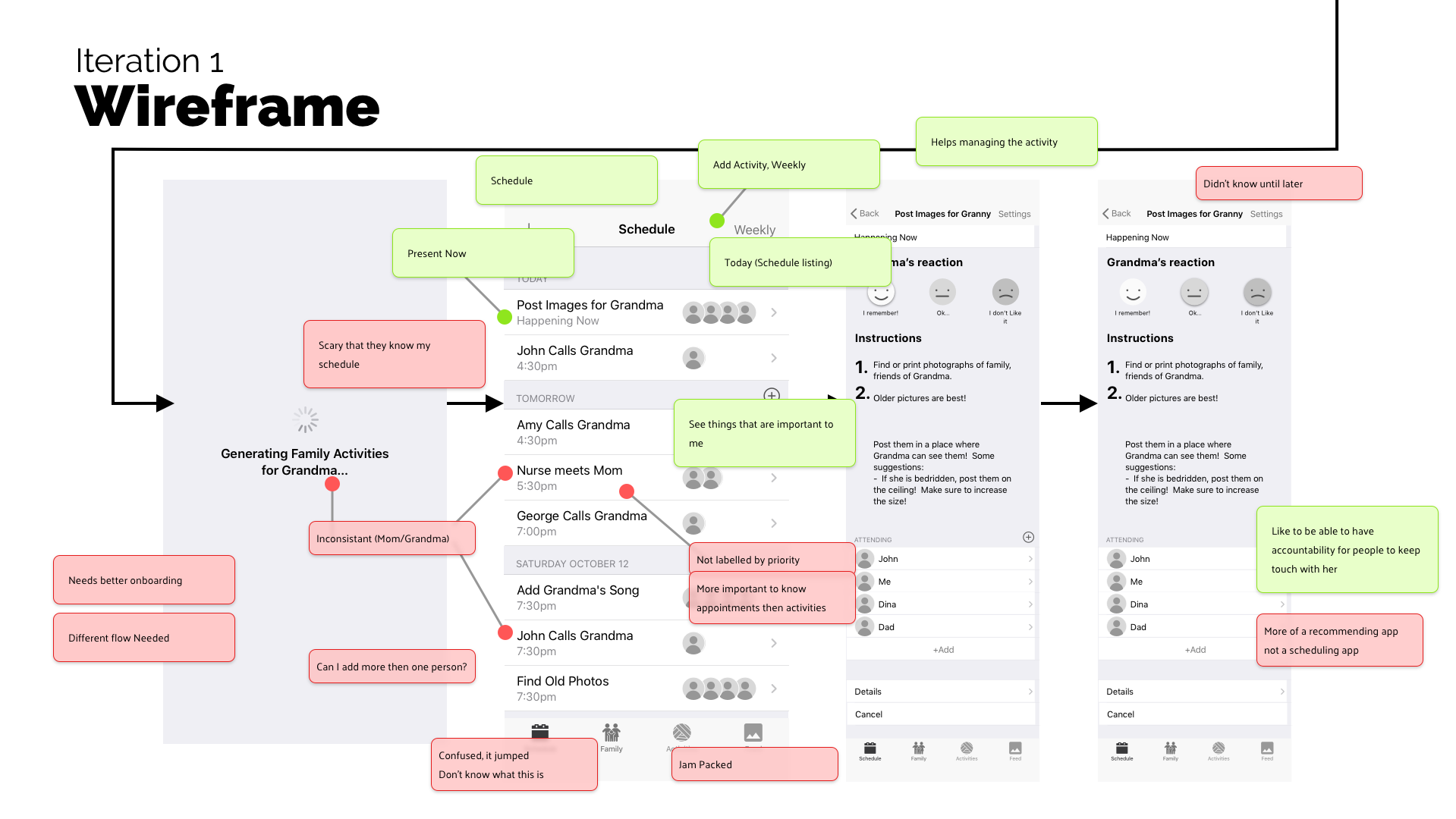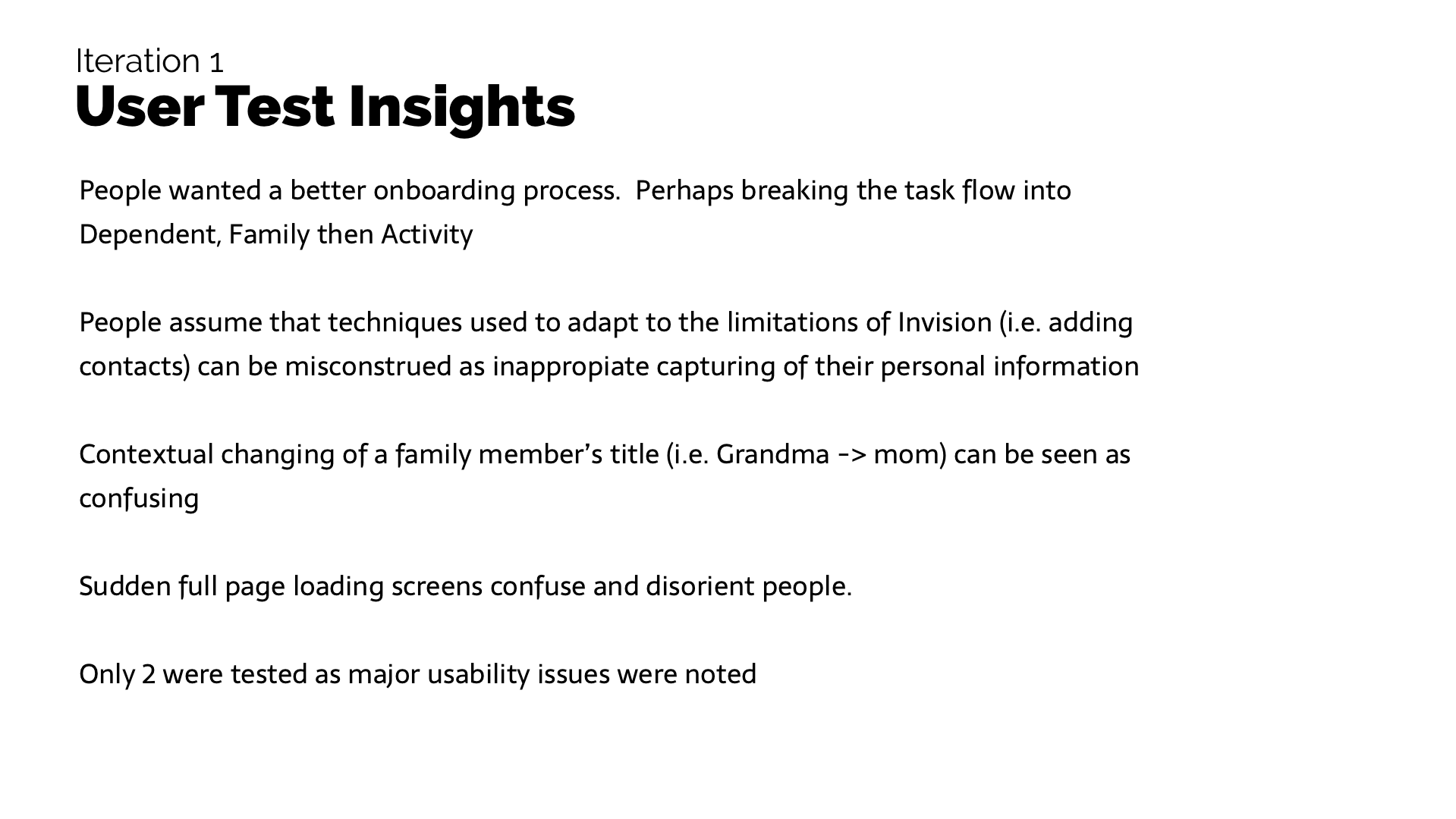 The first iteration went poorly with major usability and so was cut short.  Namely upon submitting contacts I had the prototype auto-jump to imitate generating a schedule, then another jump to the schedule screen.  The testers found it very jarring.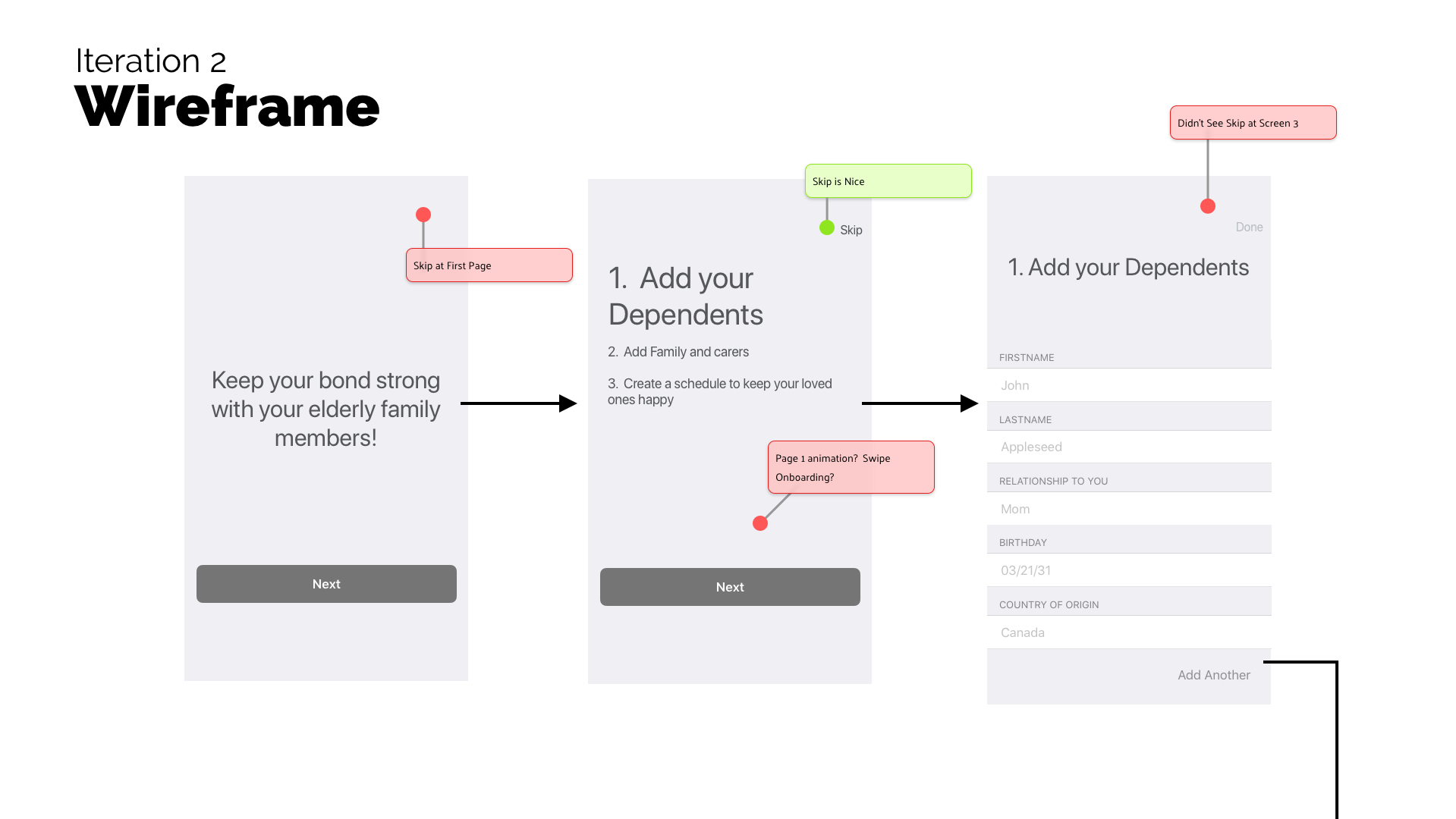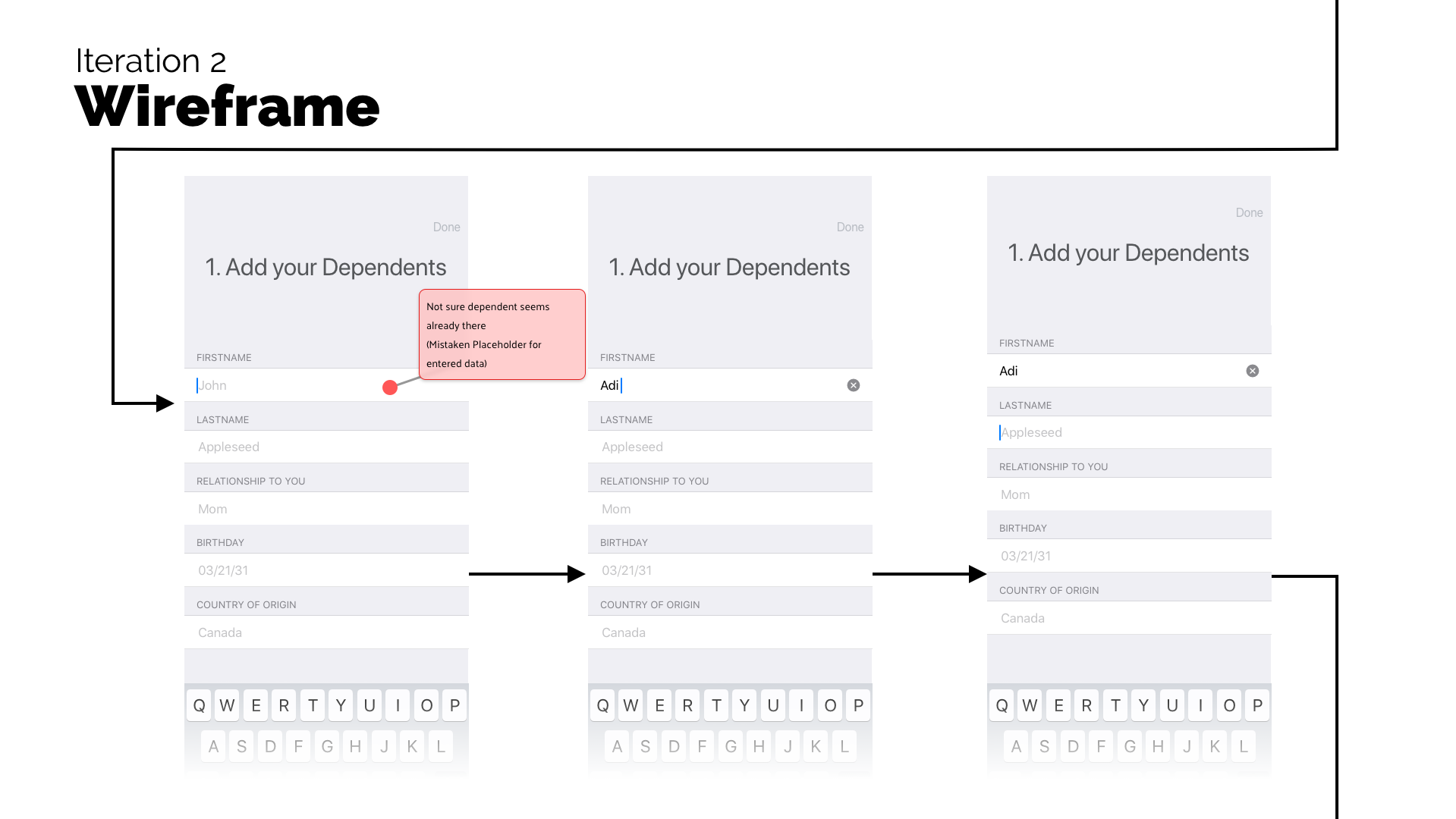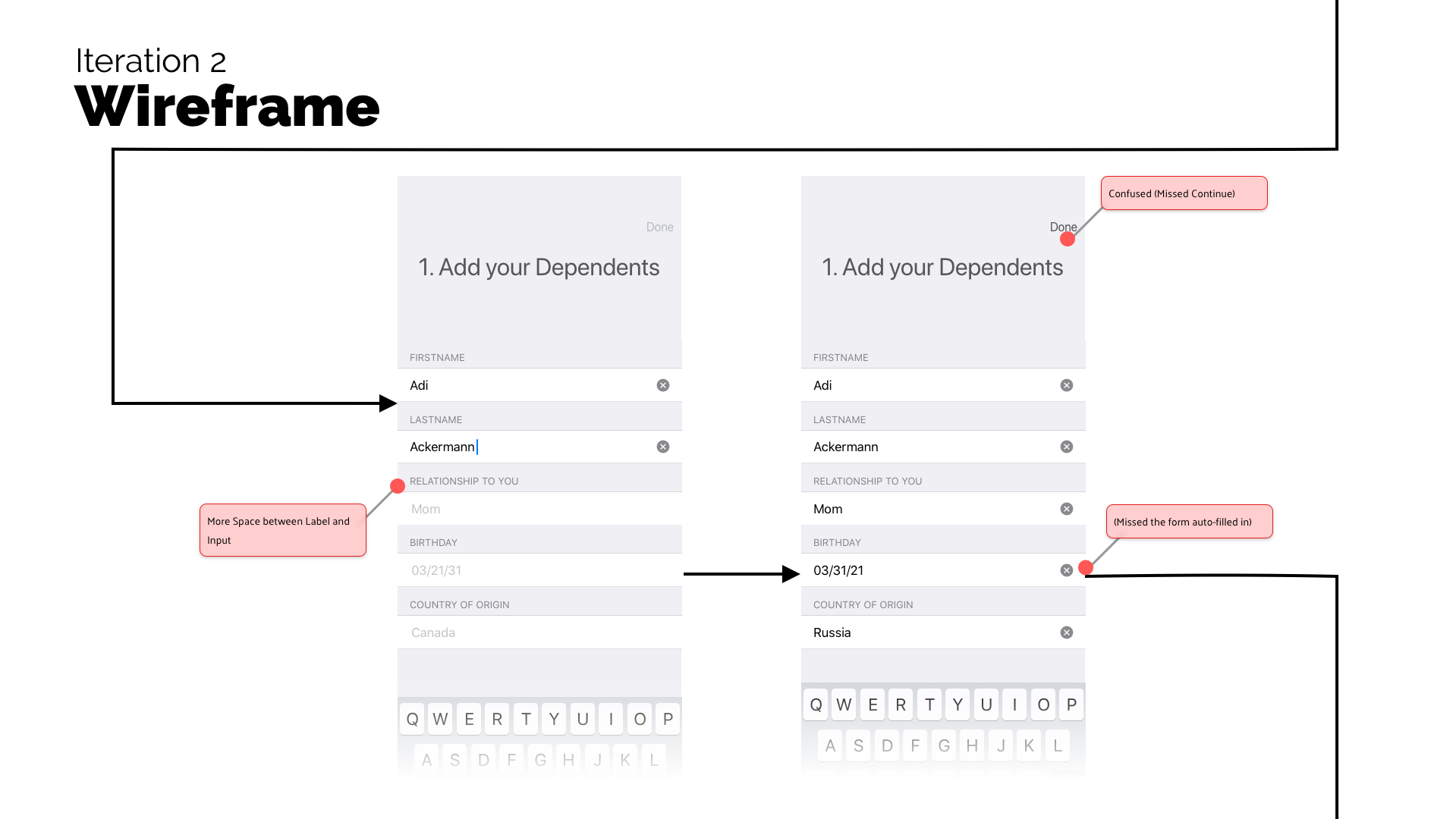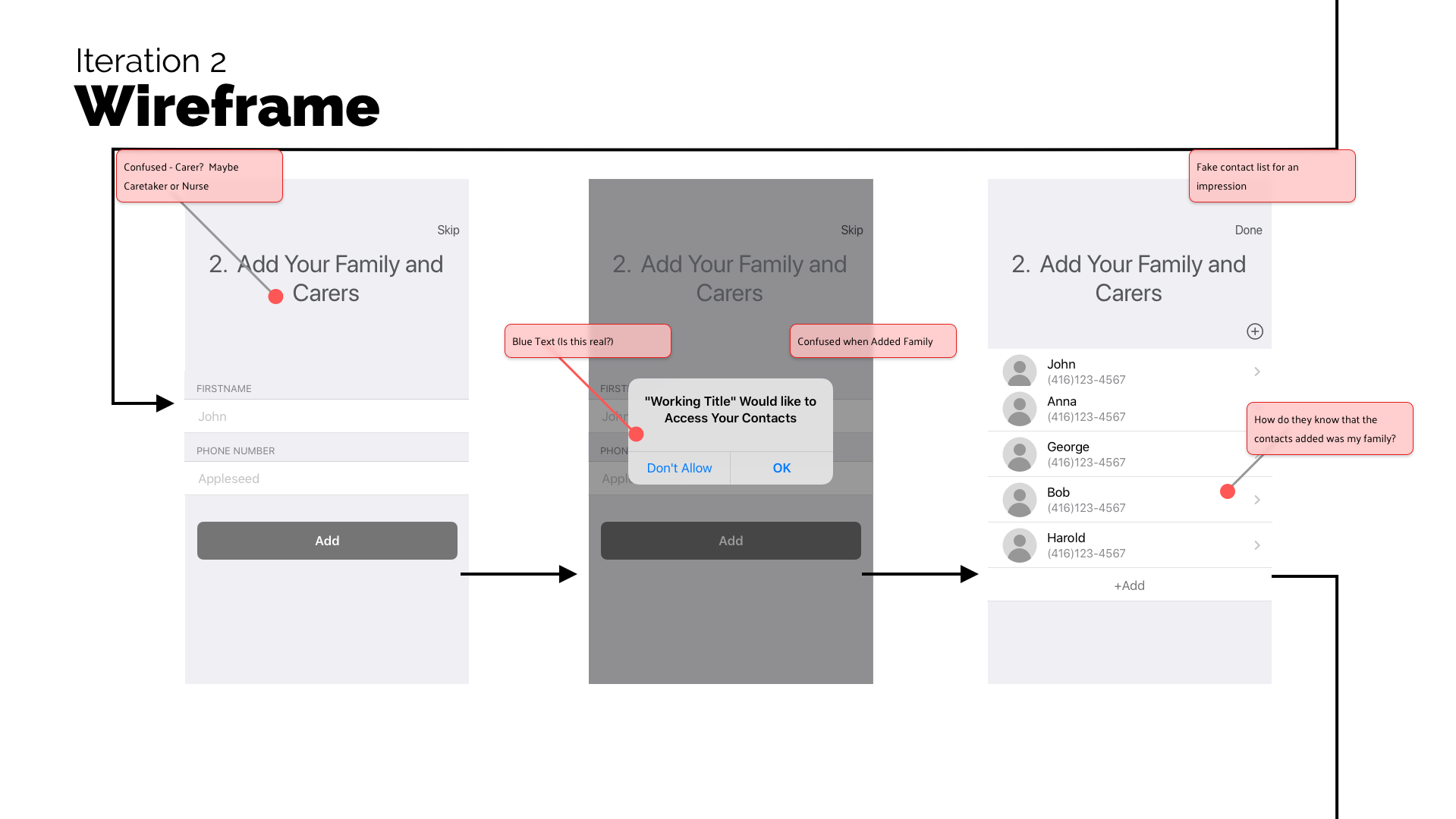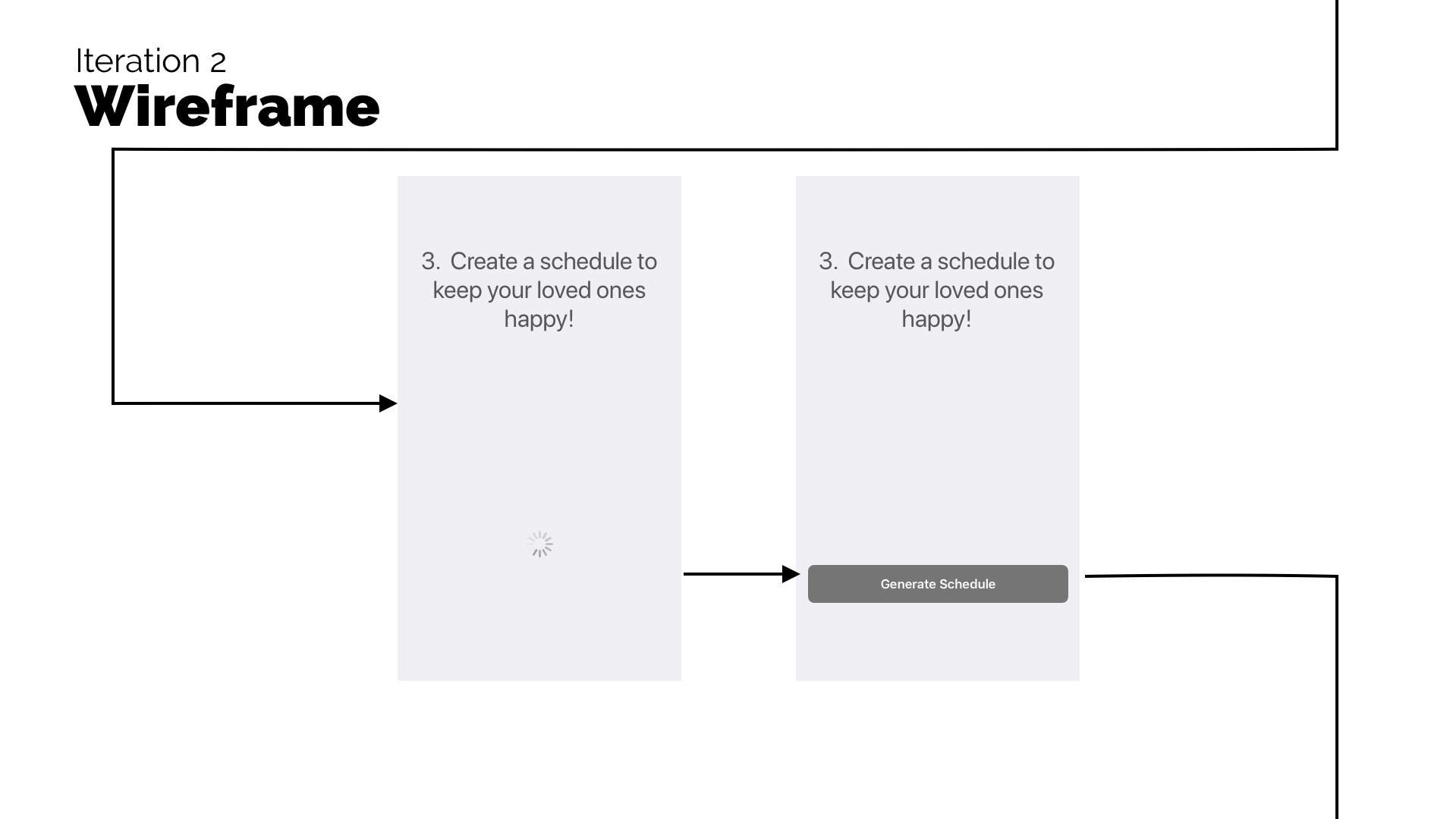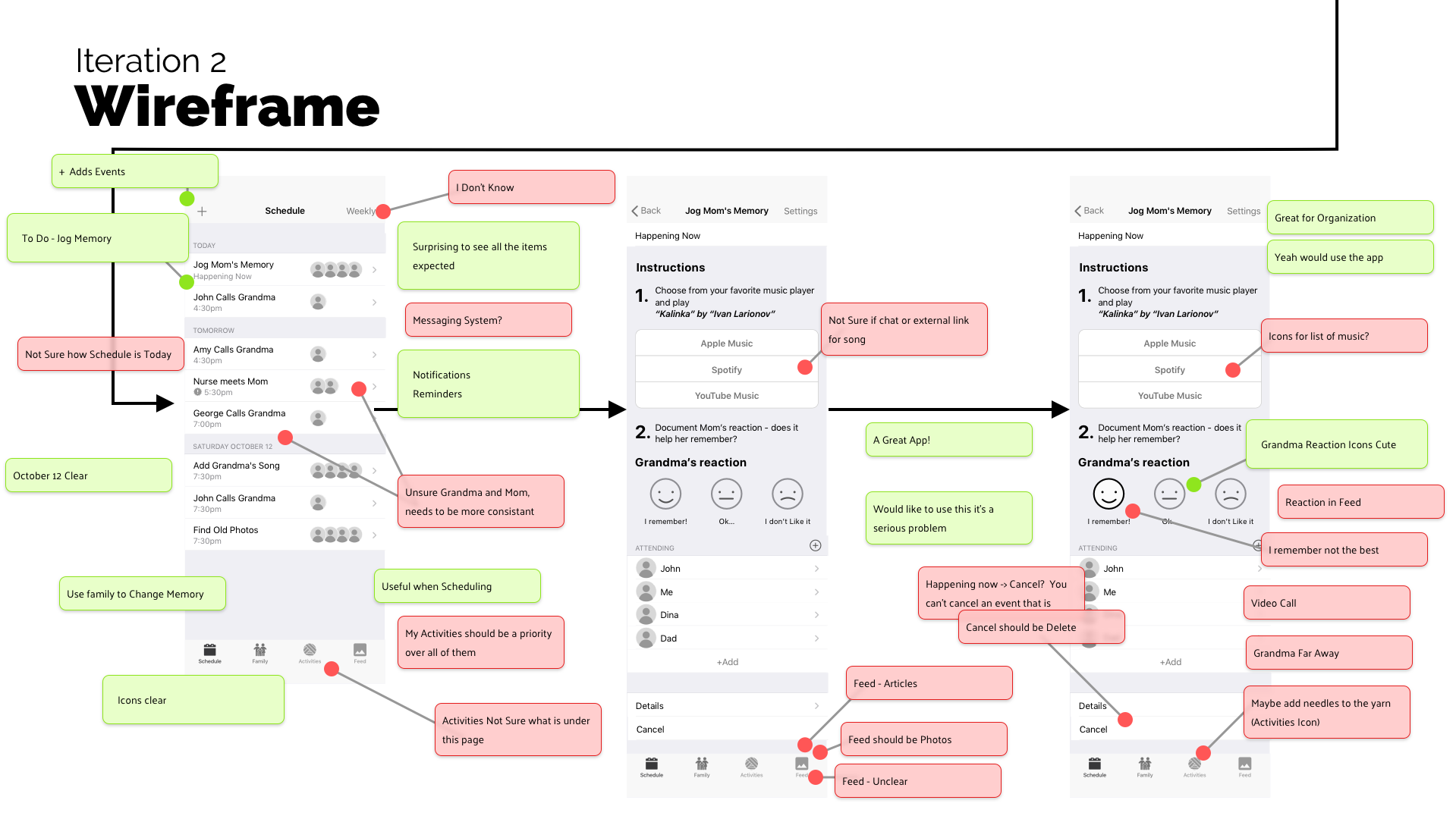 The next iteration went much more smoothly and the tester were able to accomplish the tasks.  Now there is a confirm button before the auto-generating of the schedule, then another confirmation button once it completes.  The testers were fully able to understand what was going on.  However I saw some more ways to improve the design, and I have made them as I went through the app as well as observing people using it.

Before I can get started with the third iteration, I needed to start branding the look and feel.  This is so it can be made in Hi-Fi.  A moodboard was made as I wanted something that would give a late-spring feel of a brighter future.  Green and purple were the colors used in the Womens' suffrage movement and it seemed appropriate for my target market.  Freedom for the women that have now come to old age.  Unfortunately I could not find any photos I can use to illustrate that, but with those colors I was able to reverse google search with them, and found what I was looking for.  Purple flowers in a green meadow give a sense of safety and stability for the monarchs that would use them to rest.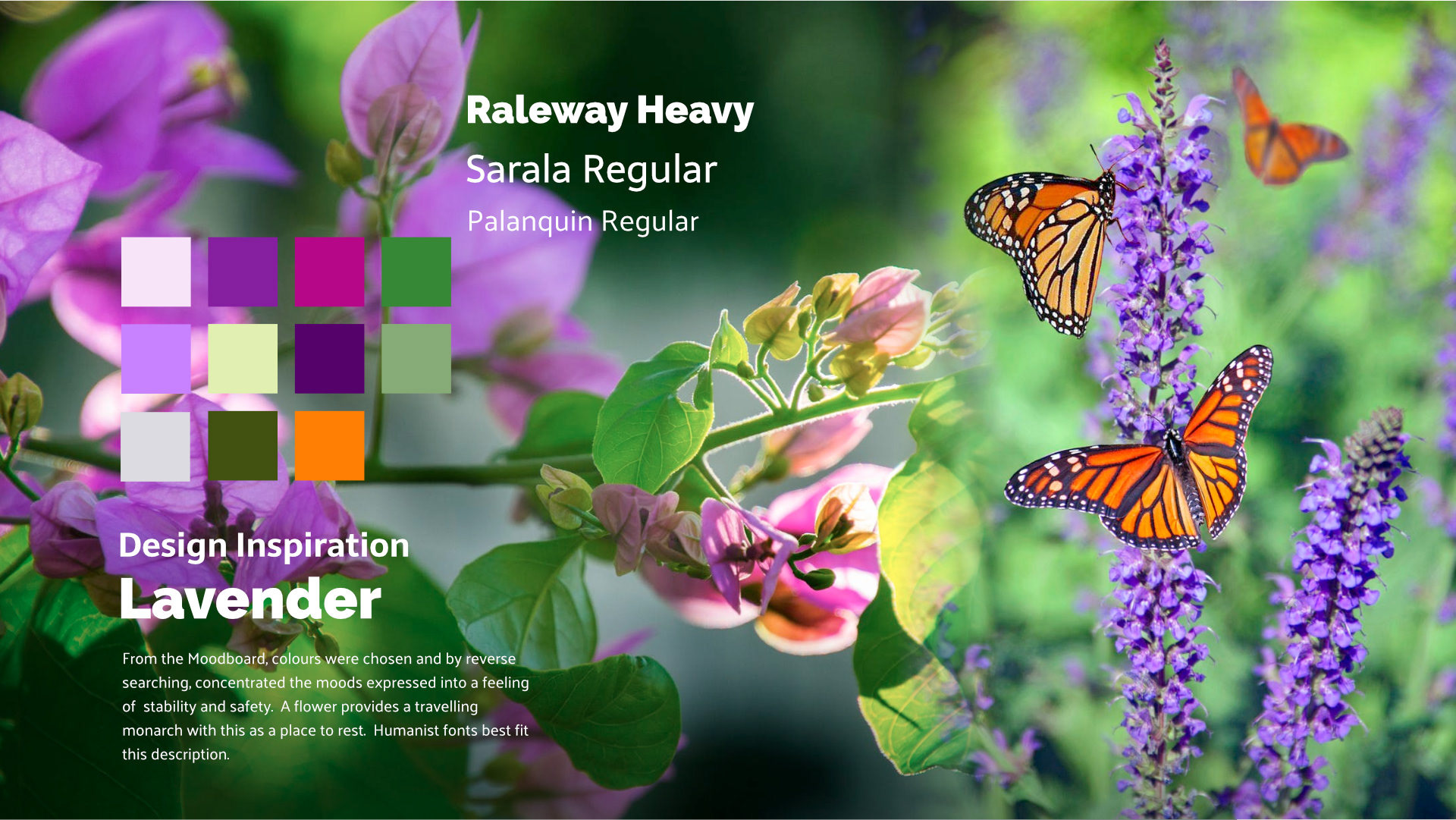 I decided to make some illustrations to better show the vision I had for the brand.  The art had to look great but quickly, so simple shapes with a 'handmade' charm was used. This is meant for family in mind, so the art mimicked children's drawings while having the polish of a premium product.  With the help of a AI name generator, I came up with 'Kinsight' the merge of 'Kin' and 'Insight', something that one can expect to have with their family using this product.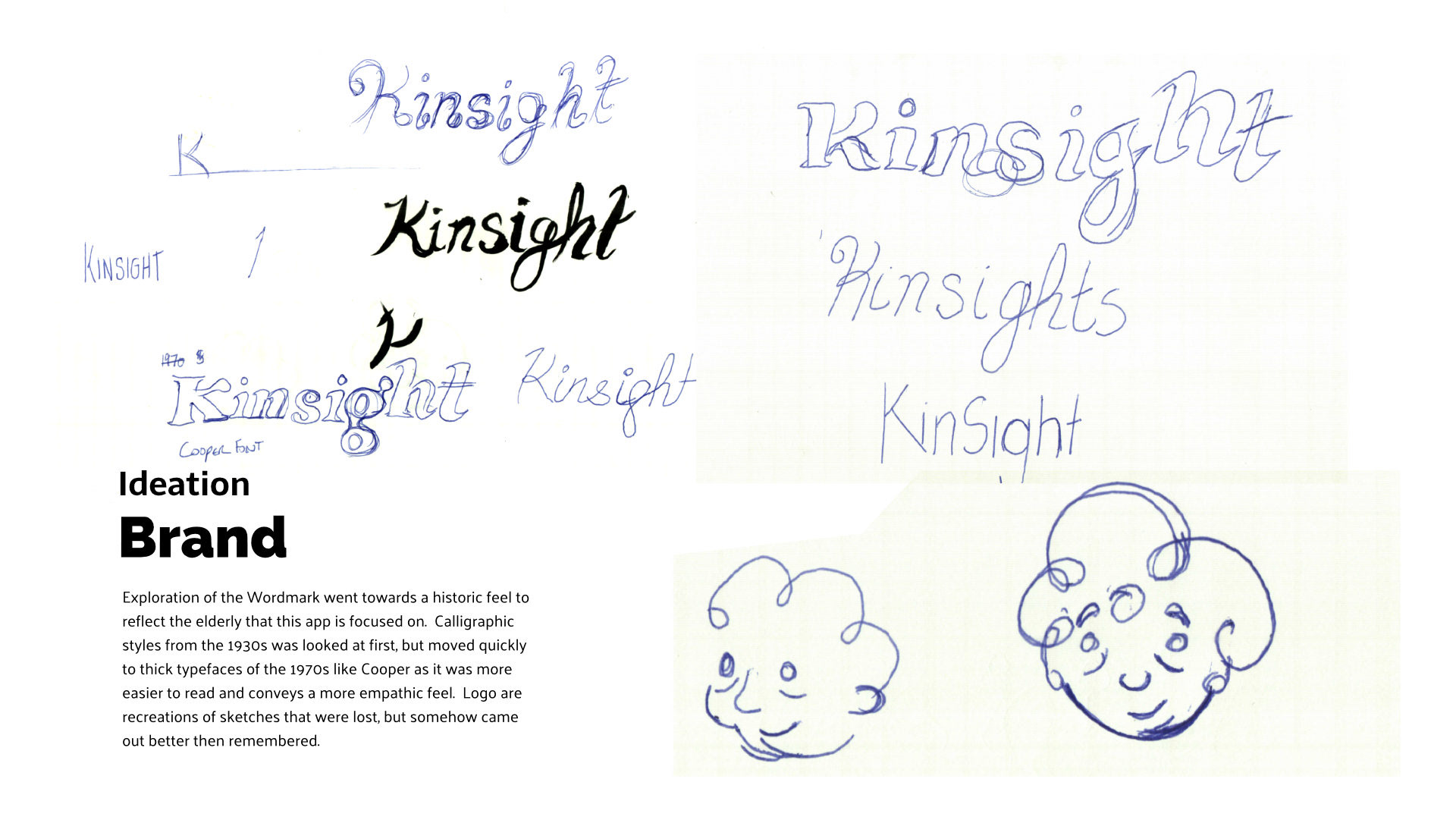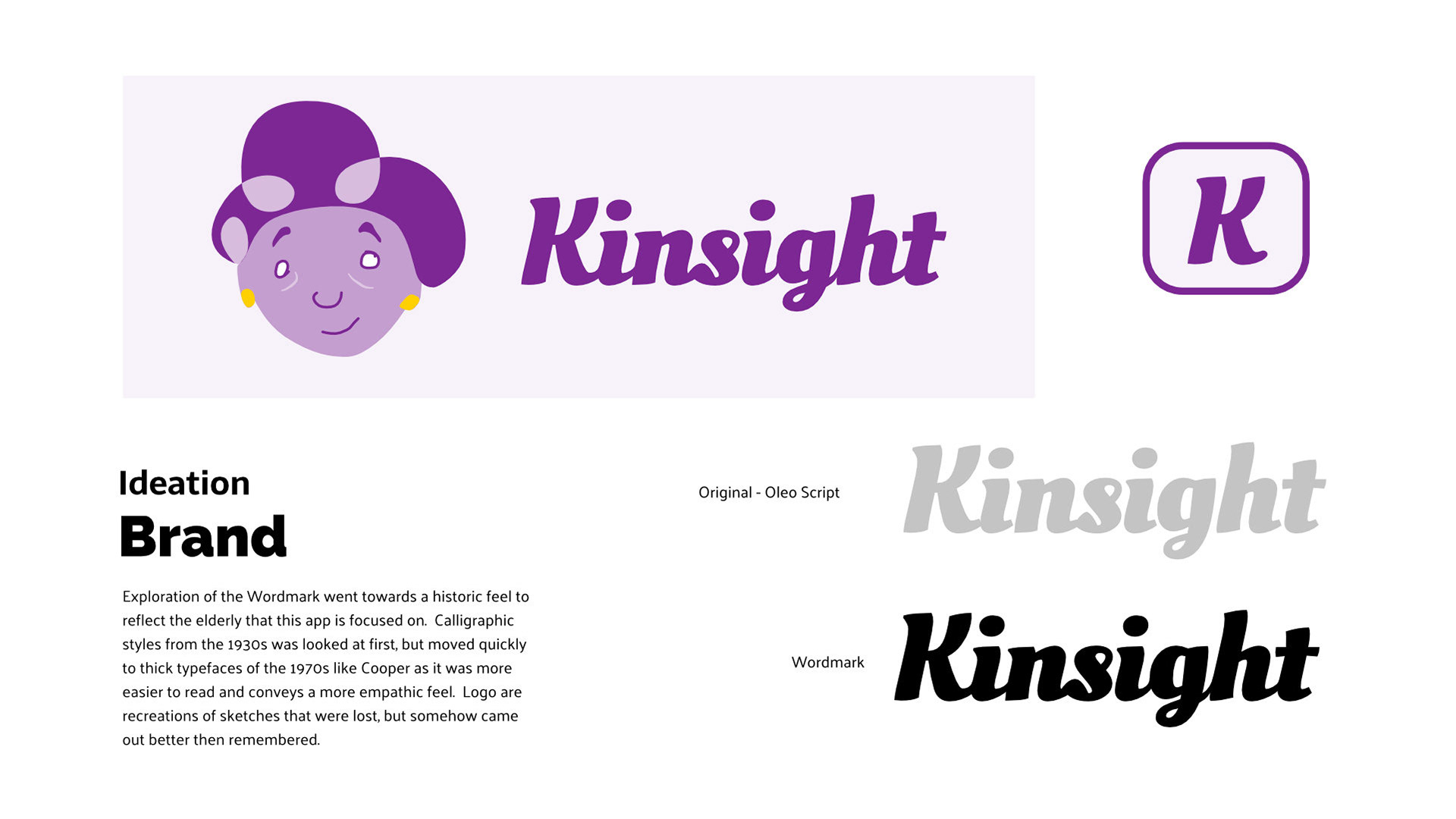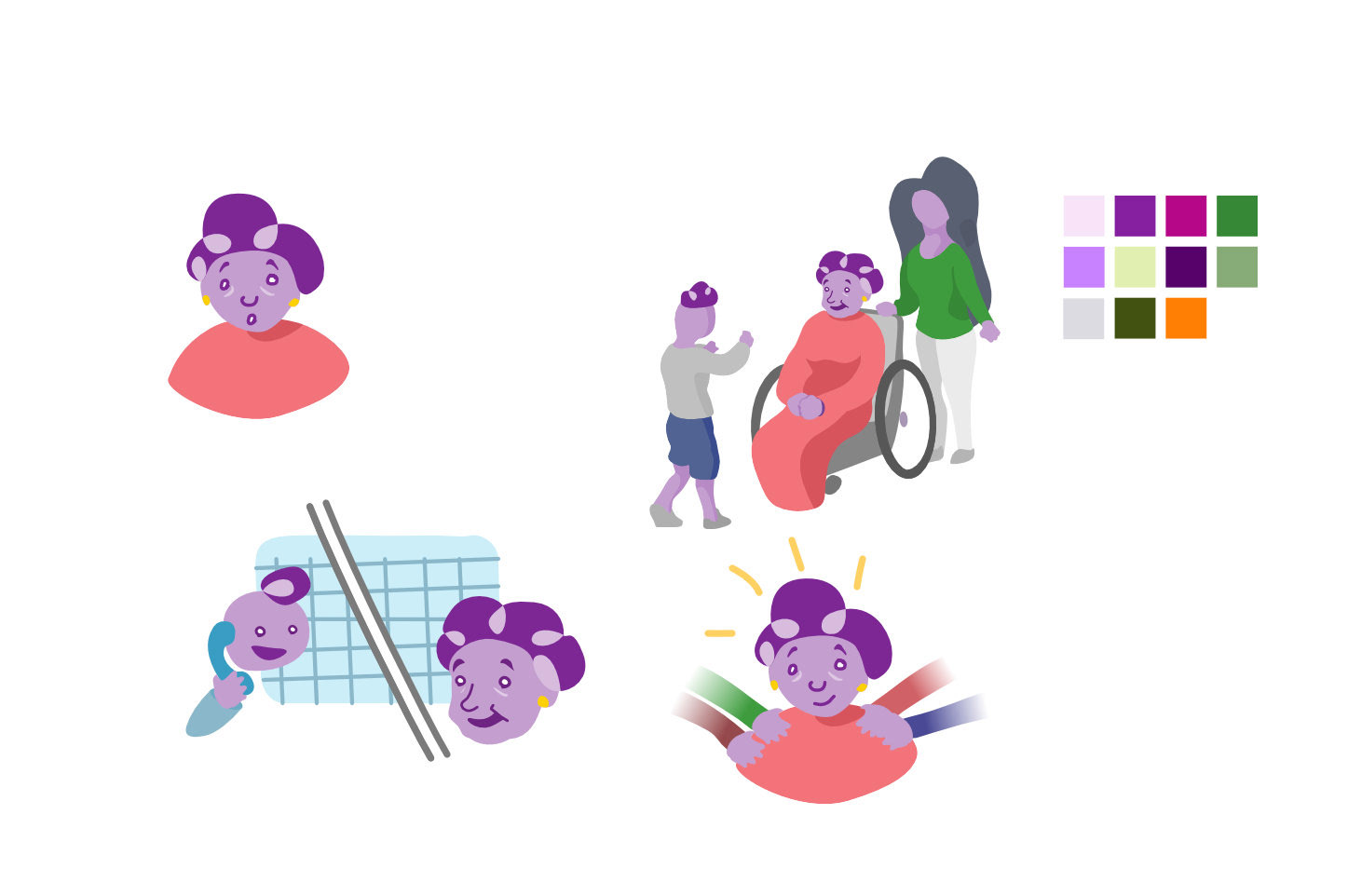 I wanted to move away from the strict iOS standards to something that was more accessible to my target persona, Anna.  As an aging woman herself, her eyesight may not be as well as it could be, as I observed in the older people in my life.  As well I wanted to simplify the process when doing the activity by breaking the page into different steps.  I can also test this portion of the experience. Lastly I wanted a confirmation of the reaction. Previously I thought it would be best to just click the icon but having a confirmation that the activity as a whole was done seemed better.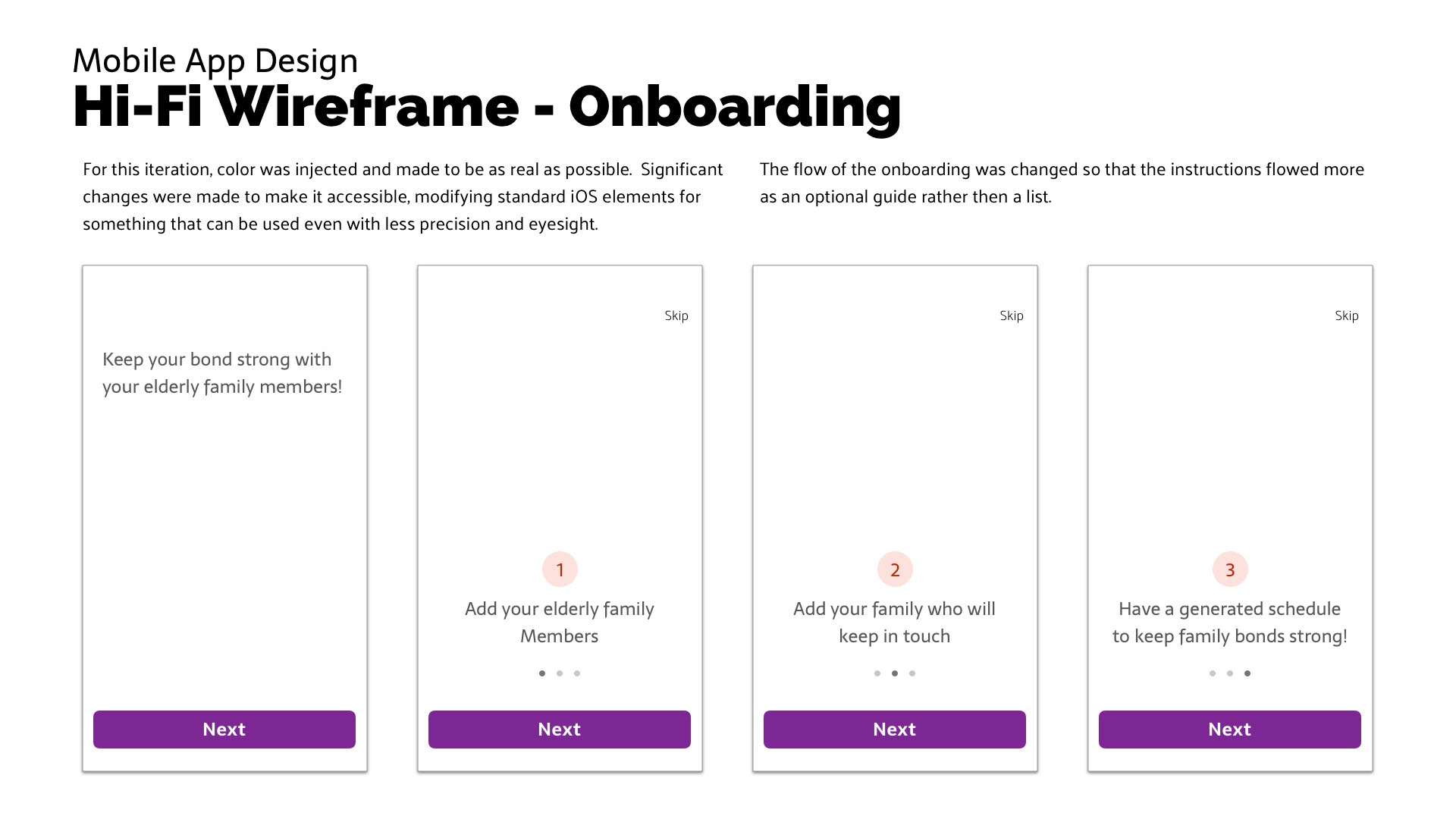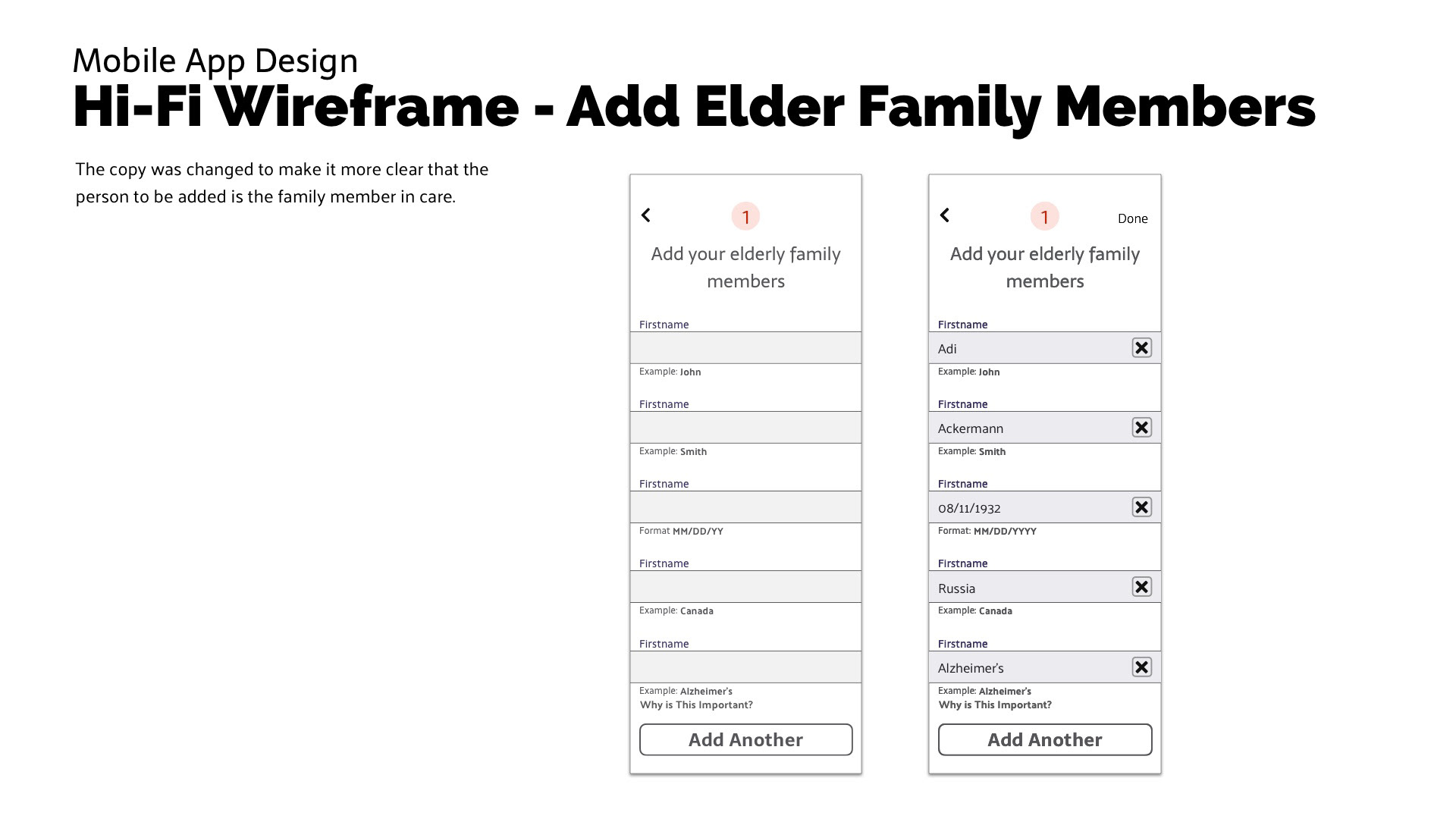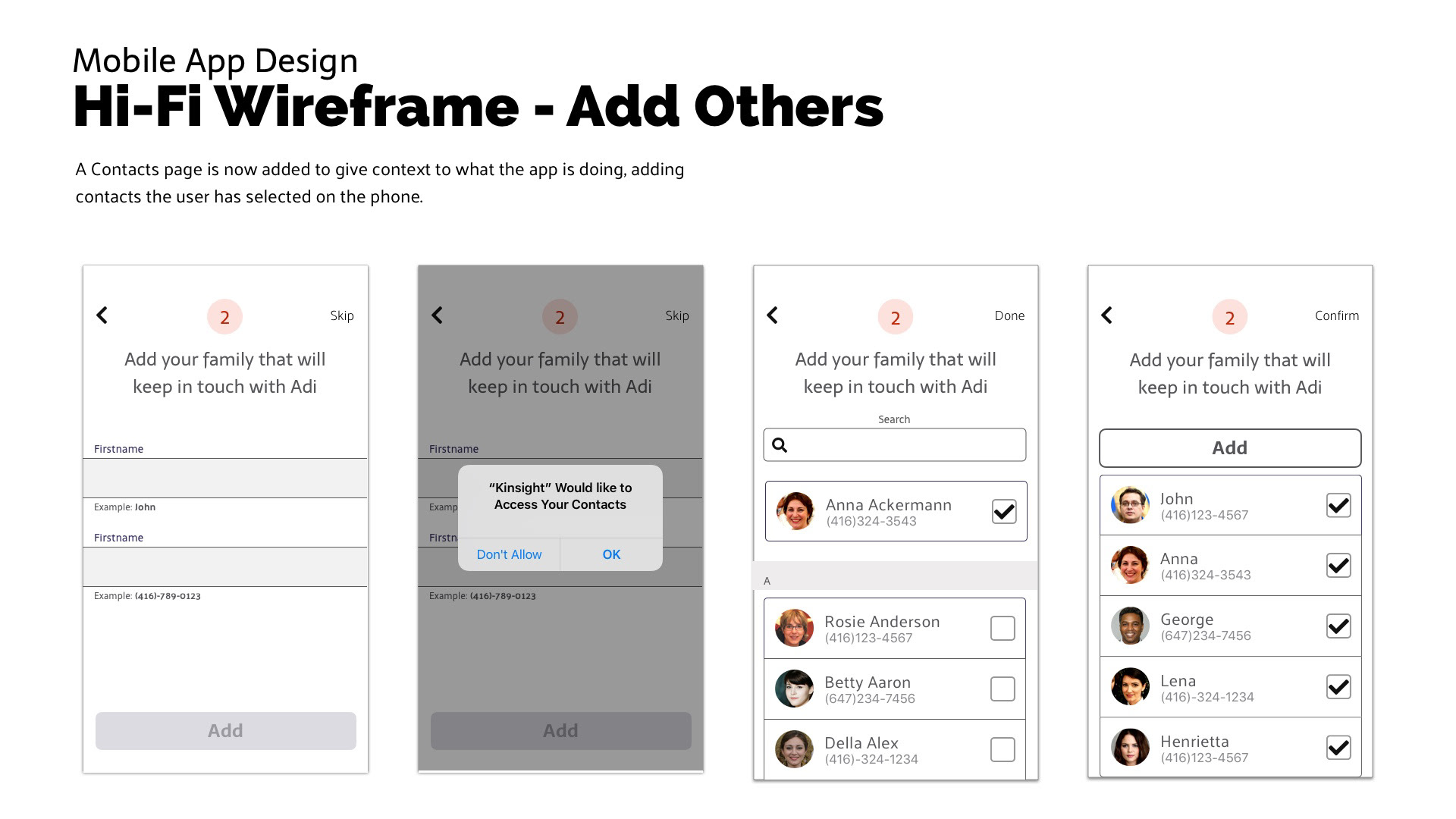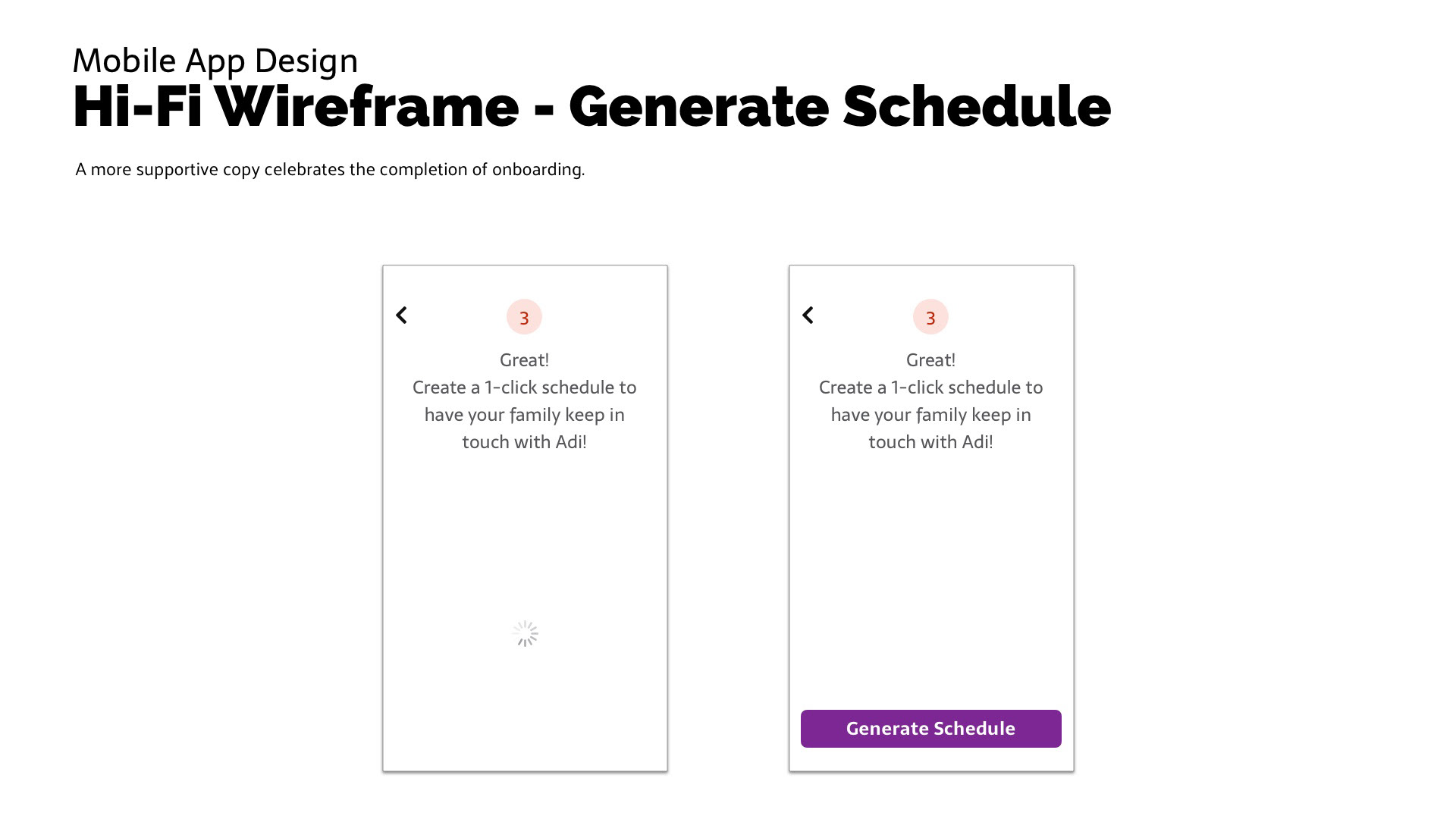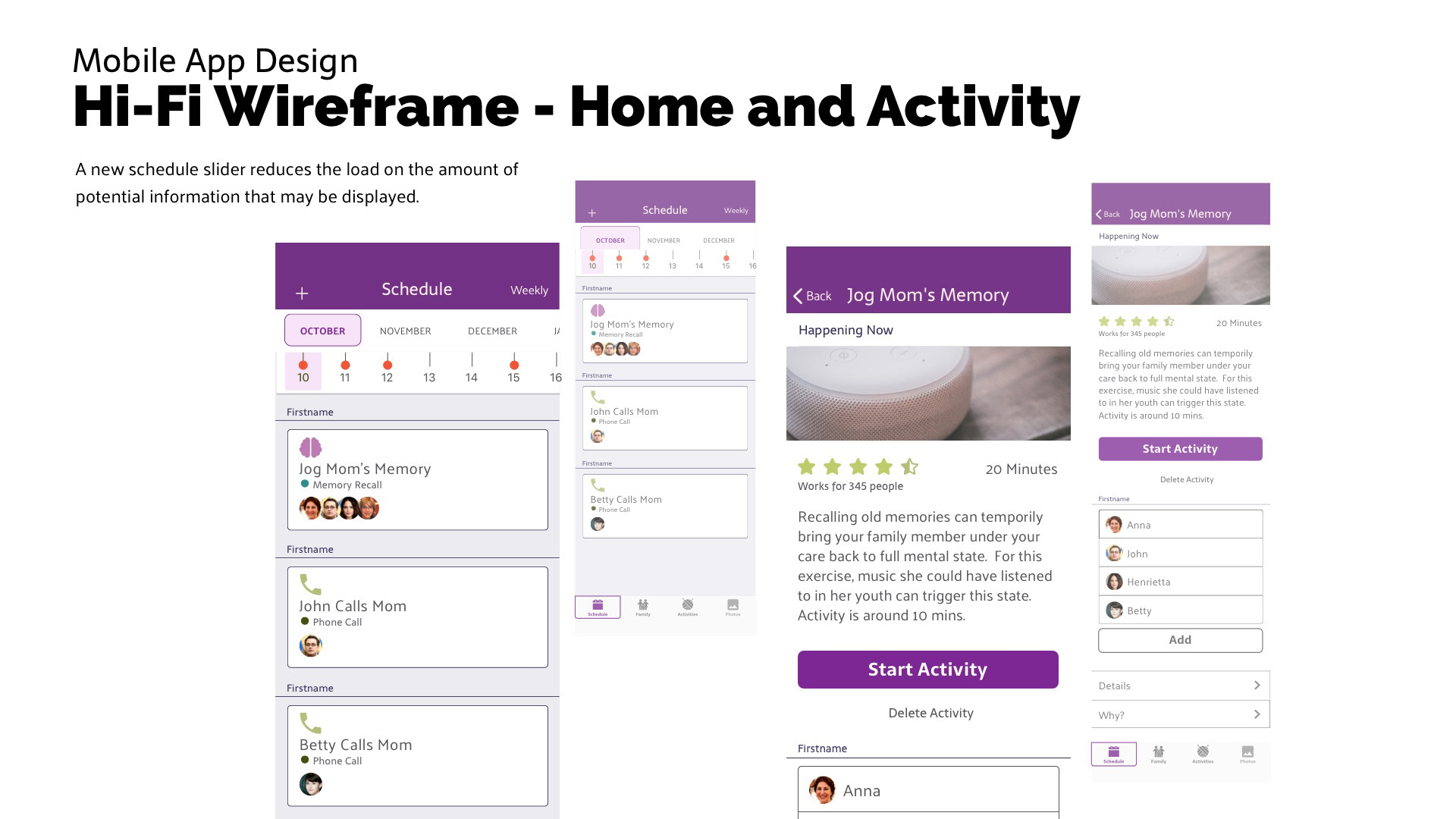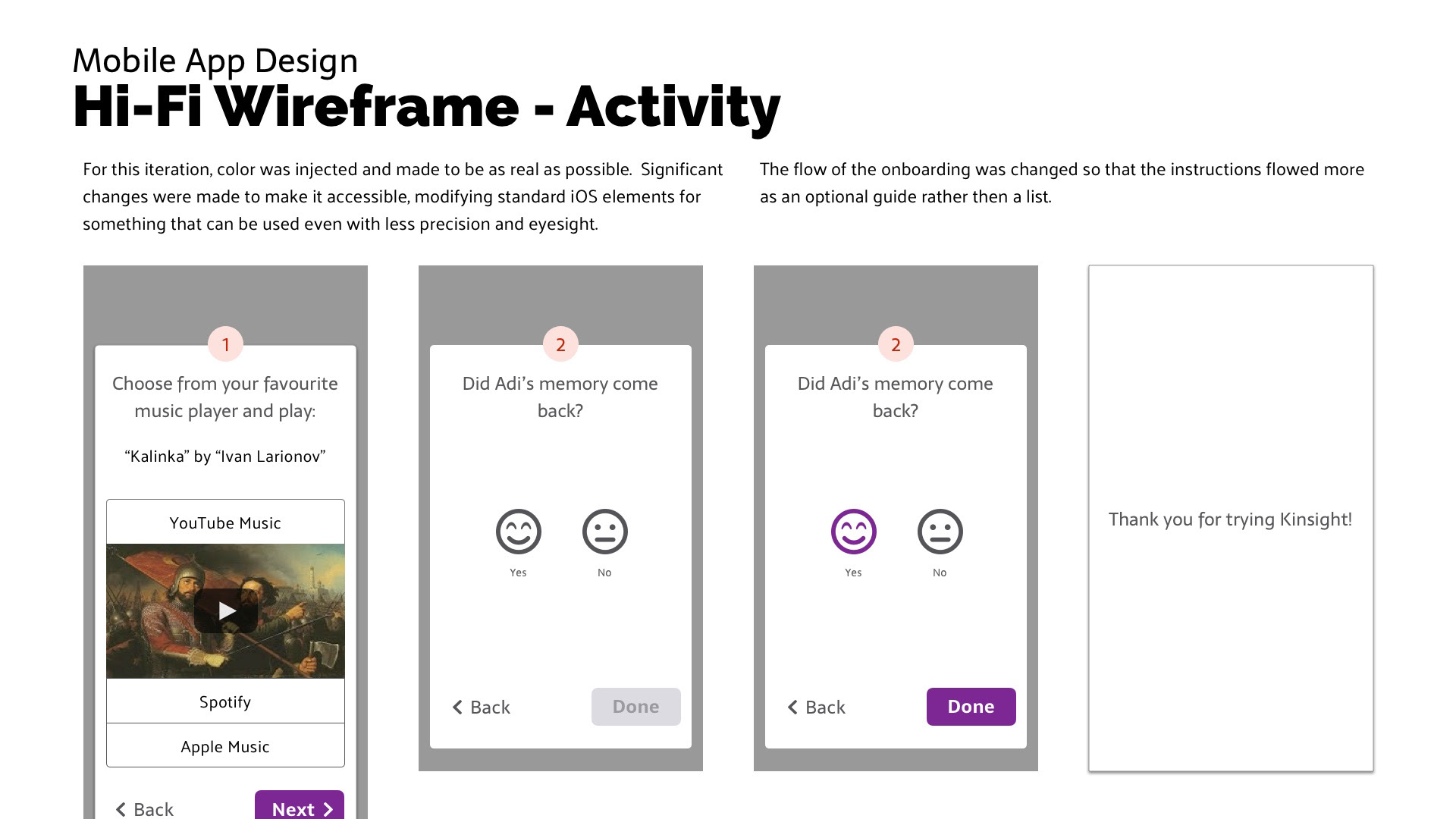 UI Library
As I was using Sketch, I built the library as I was developing this iteration.  Making sure to create symbols as I went along.  Components are loosely based on iOS standards but are larger and strong contrast between elements.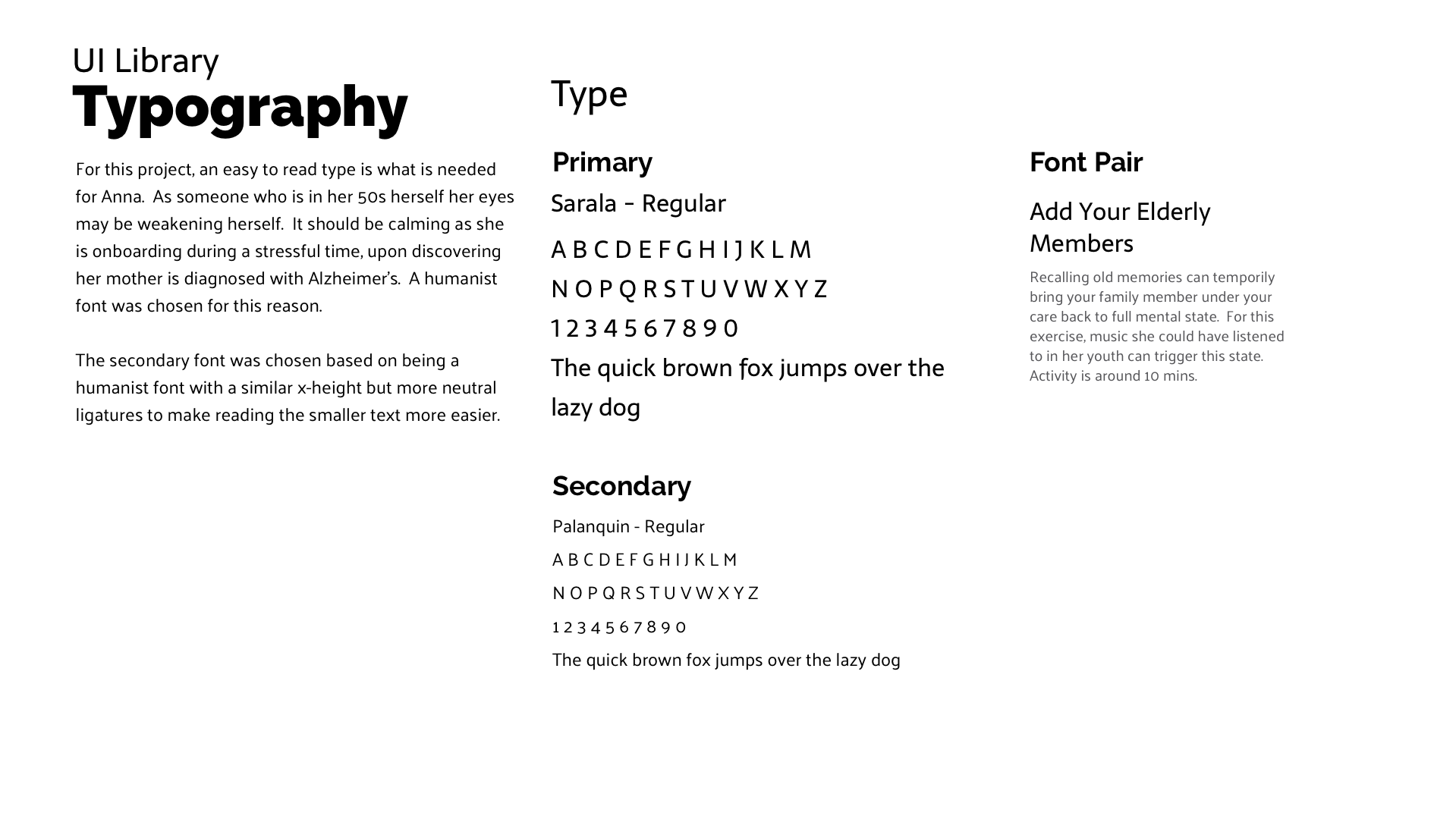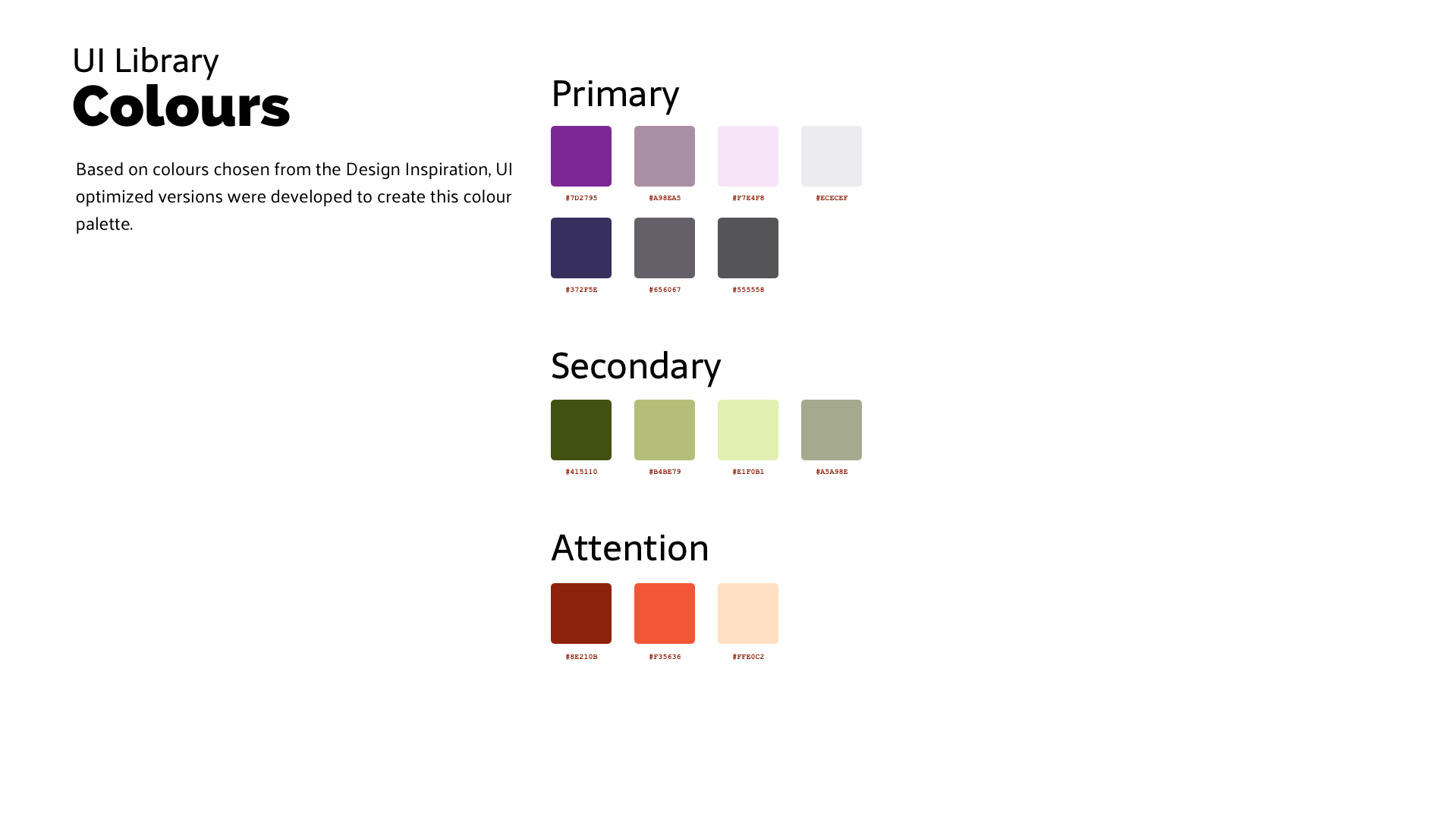 To test and make the branding fit I made a marketing site.  A one pager that can quickly describe what it can do. I also wanted to create illustrations that would also be used in the app.

I would like to have this last prototype be tested more to see how fair it is.  I had a few designers test it informally with no issue but it's much better to have non-industry testers try it.  The functionality of the app and not the individual activities were the focus of the app, and finding and testing those activities would be a great help.  One piece of feedback I would like to implement is the ability to adjust for far distances. Many elders can be on the other side of the world and it can be great to keep those connections strong as well.

This project really highlights for me why I love being a designer.  It isn't just about making pretty things. A lot is detective work, finding hidden pains that are not talked about, just because it may not  even be observed in the first place. Then you get to crack them and make the world a better place. The biggest insight was that even when designers remind ourselves about having empathy, it's really important to not take it lightly.  I assumed that elderly with diseases like dementia just wandered because their brain no longer functions as well. I would have not considered at all that it was done as a way to fulfill an emotional need not being satisfied.  

Quite a few people told me that they would love to use this app for their own elders or even a relative with autism.  As of this writing I hope WeTraq decides to go ahead to build this app.